Precious Stone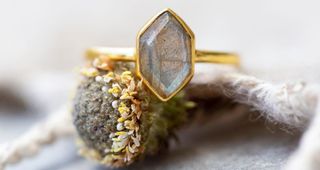 It adorns every space in the home, adapts to all surfaces, and is also a first-rate material for designers. Stone adds versatility with its myriad aspects, enhancing all sorts of interiors.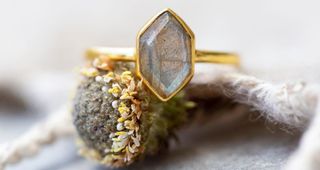 MUJA JUMA
Earring Labradorite Fancy Diamond
This Beautiful Labradorite Ring is available in three sizes , size 52/54/56. This Ring is also available in many other colors.
CARPYEN
Table lamp ALABAST
Dimmable alabaster table lamp suitable for outdoor and indoor use. Rechargeable Induction Battery IP66 Optimal use 8 hours Recharge in 4 hours SIZES 39cm 30cm 11cm LED BULB 2.5 W 290 Lumen 3000 K FINISHES Alabaster
MALABAR
Madonna Stool
Always curious about new scientific discoveries, the atom become one of Salvador Dalí favorite subjects of reflexion. Dalí borrows the image of a Madonna by Raphael Sanzio to conceived the Maximum Speed of Raphael's Madonna. Her breaks up into spheres, geometrically perfect figures, and into forms resembling rhinoceros horns as Dalí unearths logarithmic spiral forms based on the pattern of Divine Proportion. Inspired by the so-called "atomic period" of Dalí, Malabar designers conceived the Madonna stool.
MAISON VALENTINA
Silk Vessel Sink
This elegant Silk Vessel Sink is handcrafted in a majestic marble. With soft edges and round details that resembles Silk, a noble fabric known for its delicate texture, this Vessel Sink can be in different marble types, allowing you to match it with your favorite colours. As being part of our ATO Collection, you can assemble our Silk Vessel Sink with one of our Taps or Surfaces, choosing from many different designs and finishes.
ELEGANTIA GROUP
Geometry III Mosaic - Confectionary
Rosso Laguna (Polished), Nero Panthera (Polished), Timber Brown (Polished), Medium Bardiglio (Polished), Giallo Reale (Polished), Stratus Pink (Polished), Bianco Carrara (Polished), Milky Pink (Polished), Rosso Verona (Polished), Oxford Beige (Polished)
UP GROUP
Piotr vase
Marble vase designed by Martine Bedin
D.A.R. PROYECTOS
Gemstone Clips - set of 2
Semi-precious stones from the Peruvian Andes are carved by hand into this familiar object with an exotic twist. The two arms of the clip are carved from one piece, skillfully creating an artisanal laundry clip that is humble, elegant and unexpected. Perfect for capturing office notes, business cards, hanging photos, and just carrying around an functional version of energetic stones.
OOUMM
LYRA CANDLEHOLDER, FLOWER VASE
Lyra is a torchbearer, a flaming metaphor, an anthem to the material. A marble piece cut in the mass which reveals a varying figure, sometimes oblong, massive, rounded, full or hollowed. A piece for all the senses. Dimensions : 143 mm x H 275 mm Marbles: Portoro, Statuary, Brown St Laurent, Calacatta, Marquina, Grey St Laurent