Color, creativity, innovation... linen makes the interiors more beautiful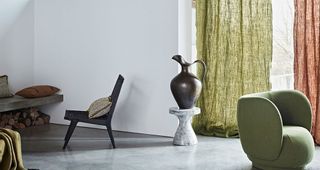 A natural, versatile fiber, linen amazes and enchants us. It's wild, in rugged textiles with uneven threads, woven basket-like fabrics, and weighty, protective linens… In a more sophisticated vein, linen weaves in metallic threads that shine like diamonds, and it becomes lightweight and delicate through the magic of floated yarn. A fiber renowned for being dye-friendly, linen loves color, whether it's in washed or printed versions. A creative textile that is instantly enjoyable, linen can take on any number of textures or embellishments.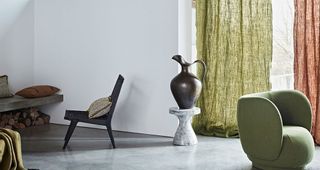 DE LE CUONA
Bracken
Bracken takes inspiration from the bracken bush, echoing its foliage seasonal shades. The fabric has been designed to reflect the beautiful raw texture of linen. Husks are intentionally left visible to give an authentic natural appearance, dry and unrefined handle.
TOILES DE MAYENNE
ETRETAT
Woven to Fontaine Daniel, this large stripe of Linen unfolds over the entire width. Each color is advertised by the previous one in a steady pace. An emblematic stripe of the brand's renewal, punctuated by strong and broken colors that meet each other, it sets out the chromatic intent of the "Végétée Digression" collection.
LIBECO HOME
HUDSON: Napkin
Time for heavy construction with a hip, contemporary finish, and we finally got there! There are 12 new colours in total, with a fantastic stonewash finish. You can see and feel the stonewash effect, which is exactly what we were going for! The colour palette was designed to mix and match with our existing collections. Colour: Black, Cinnamon, Dijon, Flax, Fog, Forest, Mercurio, Nairobi, Natural, Navy, Optic white, Oyster 100% linen – stonewash finish 460 g/m²
KOHRO
SAVANNAH
Think of spring water forming lively little creeks that flow into making a river. Imagine the iridescent reflections of nature painted in changing colors through the vibrations of current and light. Feel the sound of a gong, its soul-shattering vibrations, whose graphic translation creates repetitive and hypnotic geometries. Structure shatters, everything is fluid, free-form. This new KOHRO capsule begins to echo "feminine" accents that can merge and flow, go through life following a precise direction, yet with a natural inclination to change. Just like the course of a river.
LEMAITRE DEMEESTERE
TERRE DE LIN FABRIC
TERRE DE LIN FABRIC 100% LINEN Classic, Baroque, Stone wash finish
PIERRE FREY
COSMA
These precious matte geometric embroidery shapes intertwine, complement and confront one another. Matte hand embroidered threads harmonize across a beautiful linen canvas.
SECRETS OF LINEN
Antea Rug
Custom rug Quality of the yarn - Antea Color - Light Steel Measurements - 255 X 332 Oval Rugs from the Antea collection offers you the best of both worlds. The yarn used for these rugs is made out of a special and intimate combination of linen (70%) and wool (30%). With this type of yarn, we are able to create a unique rug that combines both the features of wool and linen. You get the softness and bulkiness from the wool, with the strength, durability and shine of linen.
LEITNER LEINEN
Napkin Medici
With "Medici" Leitner Leinen goes back in time. Modeled after a Renaissance original pattern "Medici" spans the broad spectrum of Florentine palazzo flair right up to Elizabethan cottages. Available as placemats, napkins, table runners and kitchen towels "Medici" brings aristocratic taste to the dinner table.
TEIXIDORS
Throw blanket D'Abord
The D'Abord collection of linen blankets and cushions is inspired by the inherent textures of the woven basket, also made by hand and present across cultures. With this collection, Teixidors pays a small tribute to a trade in which the fabrics and objects invariably present in our lives, are created. D'Abord shows a sophisticated, elegant, sober and essential side of an exceptional quality European linen. Also available in size: 140 x 240 cm Possibility to offer customized sizes and colours
STOKER MILLS IRISH LINEN
Belfast Apron - Grit
100% Irish Linen Apron, designed and manufactured in Ireland. Prewashed in the purest spring water our linen aprons encompass the very soul of Stoker Mills Irish Linen. Specification: 87 x 62cm 100% linen Prewashed Machine washable at 40°C Colours may vary slightly between products due to batch variations.
KARIN CARLANDER
TEXTILE NO. 4 - TEA TOWEL
Measurements: 50 x 70 cm 100% naturally grown linen certified Masters of Linen®. All processes made in Europe by a skilled and local workforce. Linen is ideal for tea towels. Pure linen is highly absorbent, dries quickly after use and only gets better with use. It polishes glasses gently to become as clear as crystal. The woven structure of the designs is intended to give the linen ideal conditions to perform. Textile No. 4 has hangers in the top and the bottom. Wash and care: Linen is a natural material that changes structure when washed and with use. We see this as a part of the b