The art of details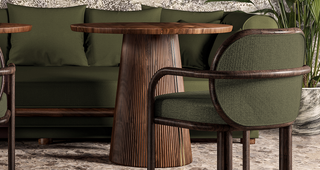 Selection M&0
The devil is not the only one hiding in the details… beauty is, too! Decorative accessories, pieces of furniture, lighting...there are so many ways to express a certain elegance, or simply the enjoyment of fine craftsmanship.
Seattral Folding Screen
PORUS STUDIO
Seattral Folding Screen was inspired by the Seattle's Central Library, which is the landmark of the Seattle Public Library System, consisted of 27 branches. Designed by the architects Rem Koolhaas and Joshua Prince-Ramus, their philosophy was to let the building's required functions dictate what it should look like. Focusing on the building's unusual shape from the outside,Seattral Folding Screen has a four-rectangular intersecting structure, composed by brushed brass, terracotta finished brass and powder coated wood in gold with brown patina.
Henry II Dining Table
WOOD TAILORS CLUB
Private member's clubs provide a space with an atmosphere suitable to unwind, form friendships and consolidate business deals, gathering individuals from different and illustrious areas. The Henry II Dining Table is an imposing table with an elegant look that reinterprets the controversial reign of King Henry VIII, preserving the expertise of traditional production with a modern design approach. Henry is rigorously handcrafted in carefully selected smoked walnut, with a cone-shaped base in layers and a round top then dressed with brushed brass details.