DIGITAL FAIR: DECO Home's picks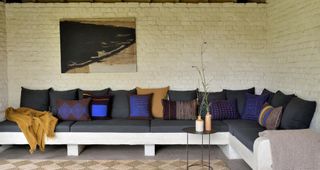 The editors at DECO Home have selected their favorite new products spotted at the Maison&Objet Digital Fair!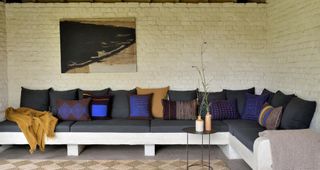 DIGITAL FAIR : THE EDITORS' PICKS
DIGITAL FAIR : THE EDITORS' PICKS
ANKE DRECHSEL
PLAIN FRINGE 30x30
Cushions made of finest Silk Velvet
BROSTE COPENHAGEN A/S
LILJA DECO PLATE
• A decorative tulip-shaped dish for the table• Made with an expressive reactive blue and white glazing• Each dish is unique, and differences in colours and shapes may occur• Not approved for food• Ø38 x H6 cm
VINCENT SHEPPARD
Leo Sofa
Afternoon tea, a deliciously refreshing cocktail, or even a relaxing lunch in the summer sun: the Leo collection is fit for any occasion. The comfortable seating of the tub chair, the laid-back shape of the sofa, and the playful weaving which is used throughout the entire collection turn it into a real eye catcher. Leo combines a strong design with amazing seating comfort, perfect for lazy summer afternoons. Sit back, relax, and let Leo do the rest! Seat and back cushion available in five different colours.
HAMILTON CONTE
POMPEIA
Liven up your space. With their gilded glass tops and brushed ash construction, this range of tables will liven up any space. Available in coffee and side table as well as bar and dining table versions. This solid wood table comes in an Espresso finish with a gilded glass top. A more economical painted glass top is also available. Other sizes or finishes are available on request. ø70 x h.40 | ø70 x h.50
TOULEMONDE BOCHART
SONIA model carpet
Hand tufted 100% nz wool
SERAX
Nido by Ann Van Hoey
"With Nido I believe I have reinvented classic white tableware. Nido is high-quality bone china tableware with a modern twist thanks to the combination of several graphic patterns." Ann Van Hoey has been designing tableware in bone china for Serax for over 10 years. The design process for her Nido tableware started with a fairly mathematical approach, which has defined her style over the years.
CERERIA MOLLA 1899 CANDLES
Scented candle. 2 WICK XL CANDLE 600GR.
Different fragrances: Bergamoto de Calabria.Tuberose & Jasmine.Tea & Lemongrass.Amber & Sandalwood.Black Orchid & Lily. Bulgarian Rose & Oud. Burning time: 80h
DCWÉDITIONS
Lampe Gras N°305
Straight But Adjustable which could be the plumb-line of lighting, suitable and timeless in many environments. Well thought Well designed Well manufactured
ETHNICRAFT
Mystic Ink textile collection
Mirroring the way ink reacts to handmade paper, painterly forms come alive woven into the textiles of the Mystic Ink collection. The intensity of the Yves Klein blue and dark chocolate perfectly plays off the classic painterly dashes, stripes and shapes. Organic vibes with a graphic edge produce a distinctive collection that perfectly complements the wider textiles range.