DIGITAL FAIR: House & Garden's picks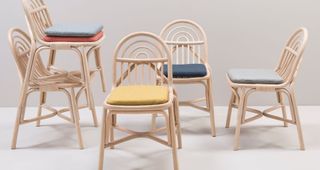 The editors at House & Garden have selected their favorite new products spotted at the Maison&Objet Digital Fair!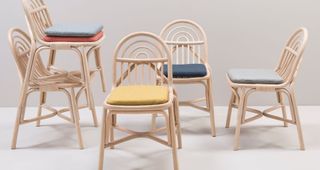 DIGITAL FAIR : THE EDITORS' PICKS
DIGITAL FAIR : THE EDITORS' PICKS
MS&WOOD
Kotona coffee table
Even some of the Kotona products are still sketches, the main idea is visible flowing through all of them. Lounched in September 2019, first Kotona products are coffee and side table. Even not so big products, they best represent the true spirit of collection. Their playfull nature and pure forms allow user to manipulate them easily and use them in different way depending on situation or will.
INSPLOSION
WEST RUG
Graphic design inspired by photographs of Architecture Conjugation of light/shadow games and perspectives with reliefs Colors in shades of brown with reference in the furniture, great part in wood, produced in Century Mid Century.
VERSMISSEN
OTIS LAMP+SHADE 19
Please register at our website www.versmissen.nl to see all the available options or contact us at info@versmissen.nl
ORCHID EDITION
SILLON rattan chair
The SILLON dining room chair is typical of the usual assembly of rattan furniture. Designed by Guillaume Delvigne, inspired by Japanese\" zen\" gardens, the small curved and parallel furrows naturally gave this chair its name. Optional seat cushion.
BOCA DO LOBO
OTTOMAN BLUE Side Table
Ottoman side table is no exception. With its distinct top, this charming piece consists of a twisted column ending on tripod legs. Delicately carved and entirely covered with silver leaves, the Ottoman side table is an amazing work of art capable of creating magic in any space where it is inserted. Adapted to the owner's preference, Ottoman is a contemporary table available in different colors such as emerald, lapis, amethyst or citrine.
TONICIE'S
Lago 22
Onyx stone and powder coated metal Lago 22 embodies a classical pendant lamp in a compact size. Its material mix becomes a functional combination of clean shapes enhancing the qualities of the natu*ral mineral. The semi translucent stone allows both materials to be appreciated from several angles. Monochromatic subtlety between contemporary and classical forms creates a soft language giving a semi direct ambient light.
THE DYBDAHL CO.
Poster. Snowy Heron.
A print from our vintage Japanomania collections showing great ukiyo-e prints from the past
ARTISAN
CLOUD Sideboard
Cloud sideboard is made of solid wood by expert craftsmen. With a linear and elegant design, it will easily find space in your home. The sideboard is available in 6 different types of wood (oak, European and American walnut, maple, elm, cherry), with various natural finishes (oils and soap). Various dimensions and modifications possible.
CHEHOMA
Cannage cabinet "Cordoba"
Cannage cabinet "Cordoba"
SERAX (IN THE CITY)
Rudolph by Vincent Van Duysen
The Rudolph sofa comes in a freestanding version, in a two to three-seater size, and single-seaters, with side tables in wood and marble tops. The freestanding side and centre tables complete the collection. "I chose to work with solid black or cognac tinted wood and marble for their texture, warmth, and tactility. All fabrics selected for this collection are custom made in Belgium and come in off white, beige, sand, smoke and bone color schemes. "Rudolph is an organic and super comfortable sofa range as well as extremely versatile. Both very Serax and very Vincent Van Duysen.
VICTORIA MAGNIANT POUR GALERIE V
Daiku table in stained ash wood
The Daiku collection is a series of eco-designed pieces inviting simplicity. The surface of the wood is enhanced by a water shade rich in pigments and varnishes for daily use. The Daiku collection also consists of a stool, an armchair, a bench, and a small desk.