DIGITAL FAIR: House & Garden's picks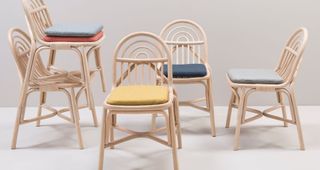 Selection M&0
The editors at House & Garden have selected their favorite new products spotted at the Maison&Objet Digital Fair!
DIGITAL FAIR : THE EDITORS' PICKS
DIGITAL FAIR : THE EDITORS' PICKS
CLOUD Sideboard
ARTISAN
Cloud sideboard is made of solid wood by expert craftsmen. With a linear and elegant design, it will easily find space in your home. The sideboard is available in 6 different types of wood (oak, European and American walnut, maple, elm, cherry), with various natural finishes (oils and soap). Various dimensions and modifications possible.
Look at me by Bela Silva
SERAX
Portuguese artist Bela Silva was once again inspired by nature for Look At Me. 'Particularly for the Look At Me pots, I was inspired by the energy and resilience plants radiate,' she says. 'Many people use flowers and plants as decoration, but they transcend this role. After all, flowers are clearly present. They breathe, move and love being the centre of attention. You could just keep looking at them, right? Hence the name of the collection: 'Look at Me'. The blue-green glaze, a recurring feature in her work, combined with the crude, natural finish, creates a striking flowerpot.