DIGITAL FAIR: VILLAS Decoration Belgique's picks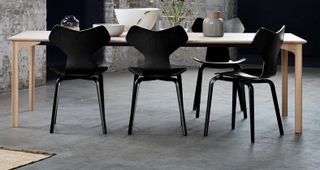 The editors at VILLAS Decoration Belgique have selected their favorite new products spotted at the Maison&Objet Digital Fair!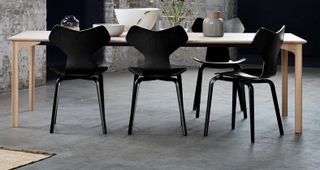 DIGITAL FAIR : THE EDITORS' PICKS
DIGITAL FAIR : THE EDITORS' PICKS
VINCENT SHEPPARD
"Avril HB" chair
If you prefer a slightly more feminine silhouette for your chairs, Avril HB is the chair for you. Its armrests give it a more curved line that recalls the classic models of Lloyd Loom. But thanks to its elegance due to a new interpretation of the traditional chair, it is a brilliant creature that will be the star of your dining room. With its raised back, this new April version brings even more seating comfort!
VINCENT SHEPPARD
Titus Lounge Chair
Titus armchair has a comfortable seat and a woven rattan backrest. Light and air can circulate through the canned surface, creating a fine-patterned shadow throughout the room. Available with a black oak frame or a natural oak frame.
JNL
Mekong Lacquered Wood Cabinet
Cabinet made of lacquered wood. outdoor shelf in oak veneer. Two interior shelves, one drawer, brushed ash foot.
MANUTTI
Lounge chair Cascade, one seater sofa
By the poolside or on the terrace, the Cascade chair, daybed and sofa collection oozes style and comfort. Its spacious seating, finished with an intriguing mix of powder-coated aluminium and thick woven rope, make Cascade the ideal lounge solution to create lasting moments with family and friends.
MANUTTI
Outdoor lighting Lumo medium
Discover our outdoor lightning with aluminium from our collection Lumo for a luxury outdoor experience. Available in 3 sizes, small, medium and large. Colour white or lava.
LA CHANCE
Penrose
Penrose is a large dinner table in wood and glass created by Berlin based designer Hayo Gebauer. The design was inspired by the geometric research of mathematician Roger Penrose and his famous impossible triangle. Depending on the point of vue, the legs overlap or blend to form shapes with 3, 4, or 5 legs. The glass top shows the solid wood base assembled with traditional tenon and mortise technique. The result is a sculptural piece with brutalist inspirations enriched with luxurious finishes and the natural beauty of noble materials. More details : https://www.lachance.paris/penrose
ATMOSPHÈRE ET BOIS
Board Collection
The BOARD collection was created by designer Julien Renault. It presents a strong, well-defined identity with simple lines and iconic design. Because of its timelessness, it integrates seamlessly into any indoor space, whether modern or traditional. Because we use invisible wood joining, the collection emphasizes the quality of the wood. For the designer, BOARD is a building system to which stools, tables and low chair will soon be added.
CRUSO
BLOCK Shelving System Large 2 level
Shelving system inspired by the self-made stacked bricks and planks shelves. The design is built on the combination of vertical steel modules and oak finished wood panels which gives the low-boards and sideboards great stability. Acting as small alcoves, the vertical modules offer additional storage spaces. The easy-to-use aluminum sliding doors and the simple well-finished details make BLOCK well suited for storage and display at home or at the office.
LIGNE ROSET
LOWLANDS
Four trays positioned at various heights in a swirling movement push a dynamic rhythm at the Lowlands coffee table. Its storage volume is optimized as clever as it is elegant, without compromising the finesse and visual lightness that characterize it, reinforced by its mono-material construction in bluish oxidized steel. Another large model version is available in white Epoxy lacquered steel.
REPUBLIC OF FRITZ HANSEN
Suspence
Form follows function
ETHNICRAFT
Triptic side table
With its clever geometric three-legged shape, the Triptic table is a chic and practical side table. Its well-thought structure will sit perfectly with your sofa, ideal for a laptop or beverages. Available in black, whisky or taupe.
THIBAULT VAN RENNE
ELEMENTS
Rugs in 11/11 (180.000 knots/m2) in a persian knot produced in Rajasthan India. The collection consists of the idea of combining elements of different materials and cultures into one collection. Materials such as wool, silk, sari silk. Design elements such as inca culture, persian carpet design, french soap making, chinese dragon art and abstract art all combined to create a totally new look.
THIBAULT VAN RENNE
VISUAL carpet
extremely detailed rug collection by THIBAULT VAN RENNE