DIGITAL FAIR: SURFACE's picks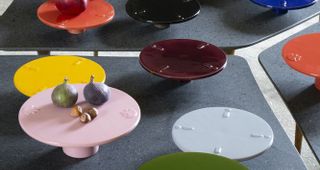 The editors at SURFACE have selected their favorite new products spotted at the Maison&Objet Digital Fair!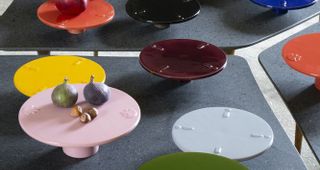 DIGITAL FAIR : THE EDITORS' PICKS
DIGITAL FAIR : THE EDITORS' PICKS
FERMOB
EVASION | Cushions
This mixed collection mixed with its bohemian charm makes you want a change of scenery. As a tribute to craftsmanship, the weaves with their graphic lines are inspired by traditional basketwork and give great effect and an authentic touch to the range. Relief and a subtle interplay of textures, the Evasion collection is an imaginary voyage to the heart of tactile, reassuring materials, the inheritance of distant lands. This collection where the idea of getting away from it all takes centre stage blurs the limits between indoor and outdoor.
LIGNE ROSET
ASMARA
Asmara defines itself as a modular sofa in stretch, with concave shapes that voluptuously embrace the shape of the bodies in a human conception of aesthetics. Decomposed into several elements, the Asmara composition can be constantly rearranged. The seat consists of five separate modules: convex, concave, small backrest, large backrest, semicircular table. The most common composition consists of two convex elements, 6 concave elements, 3 small folders and 1 large folder. It makes it possible to carry out an islet or a "classic" implantation.
REPUBLIC OF FRITZ HANSEN
Suspence
Form follows function
MANUFACTURE
Static table
Static is an iconic table. Its beauty is inherently tied to its structure, which was designed as a piece of architecture. In its most fundamental essence, it features structural elements that materialise the laws of physics. Bracing rods, welded steel and a clear glass top are all elements chosen for how they resonate with modern architecture. Static is a light-spirited design capable of bringing life to its surroundings. Aesthetic and functional, this design will express its static force in any environment, whether used stand-alone or in compositions.
STUDIO SWINE
Loom Chair
Powder coated steel chair for both inside and outside.
DRAGONFLY
Water Lily - Dish on Stand
A resolutely modern and design presentation dish perfect to highlight your culinary creations. These ceramic discs come in 9 colors and 3 sizes. A new colorful playground for dishwashing lovers. This dish on a base is a real decorative object that will bring light and cheerfulness to your interior. Each size has its own pattern: Life (S), World (M) and Light (L). Size S (85€) H 3 x D 16 cm Size M (100€) H 5 x D 19 cm Size L (125€) H 8 x D 22 cm
ZENS LIFESTYLE EUROPE
Stone Series
The stone series from the Nendo Studio features a brillant design motif of smooth stones often depicted in traditional Asian paintings.