DIGITAL FAIR: The World of Interiors's picks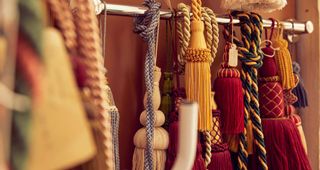 Selection M&0
The editors at The World of Interiors have selected their favorite new products spotted at the Maison&Objet Digital Fair!
DIGITAL FAIR : THE EDITORS' PICKS
DIGITAL FAIR : THE EDITORS' PICKS
Lanterns
CHIC ANTIQUE DENMARK
We provide a variety of beautiful lanterns both in romantic French country style and more rustic factory style. All our lanterns are designed with lots of beautiful details.
finest viennese handpainted porcelain
AUGARTEN 1718
At Augarten, every piece is manufactured with traditional craftsmanship and a real love of detail. The portfolio extends to around 40,000 different products – from service to figurines, vases, pots and bowls to lamps and image plates. The immaculate craftsmanship of the molders, casters, embossers and painters is passed from generation to generation, so that the unmistakability of every individual piece is guaranteed into the future, too.
ribbons, braids, tassels, tiebacks
M. MAURER
Passementerie from Vienna - the finishing for clothing and pieces of furniture from a time when the city was already synonymous with elegance and style. Tassels, trims, cufflinks and much more, hand crafted or produced in traditional methods are waiting for you.