New proliferations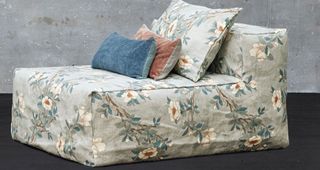 Selection M&0
This season, plants are gaining ground in our interiors. Full of pastel elegance, they are delicately taking over decor and giving shape to a poetic, homey winter garden.
Forêt 2 Panel
ETOFFE.COM
This panel inspired by the archives of Maison Images d'Epinal is distinguished by the richness of the drawing taking us to the depths of an abundant forest. Many plants line the ground while old oaks rise to the sky. This glimpse of a landscape woven with mysteries, shadows and light, reveals all the charm and magic of natural and wild forests.
ALICE MIRROR
SLOW
Alice transports you to a magical universe of reflections and shapes. Handmade with traditional techniques, this mirror is available in different finishes, gold, gray, blue or moss green, black mirror, mirror with painted frame, thus offering infinite variations. Each piece is unique. The mirror is available in diameters 60, 90 and 120, but can also be made on request and in different sizes.
Fireworks Carpet
ETOFFE.COM
Fireworks illustrates the freedom of thought and creation of Portuguese artist Bela Silva. This rug with fiery cheerfulness is covered with soft and dynamic lines, warm and bright colours. The richness of this work affirms the Mediterranean exuberance of its author with a striking fantasy. Beautifully tufted by Codimat Collection, this rug awakens and marvels the space offered to it.