Nude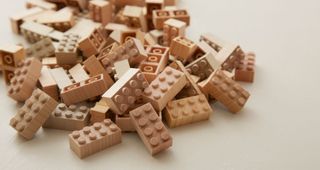 Selection M&0
Velvety-smooth and sensual, nude or rosy beige are natural choices for our interiors. Timeless and neutral, this basic, but resolutely warm, shade of color blends easily with all styles of decor.
Encre cushions and quilt
LE MONDE SAUVAGE BEATRICE LAVAL
Dreamy watercolour design Cushion 42x70 cm Cushion 30x40 cm Quilt 80x180 cm 100% linen Available in 3 colours
Chevron wool blanket
PANAPUFA
This is the best chunky knit blanket for spring and summer season. Absolutely MUST HAVE item to decorate your home, bedroom or terrace. Perfect decoration to brighten up your room, bedroom, bathroom, living room or any other room in your home.It is a natural, organic, antyalergic and enviroment friendly product.Chunky knit blanket with two big decorative braids was made of our innovative processed merino yarn, to make it stronger and more durable.Scandinavian styled knit blanket is very soft and nice to touch.
Dot Vase
UNIQKA
Dot is a collection of vases, that can be used for fresh or dry flowers, plants with soil, as well as for storing several objects. The perforated leather creates a playful pattern and evokes haptic senses. Dot is a handmade product. Made of hand-blown glass covered with vegetable tanned leather and connected with hand-stitching. Having two sizes, Dot is offered in nude and black colors.