Set a course for African craftsmanship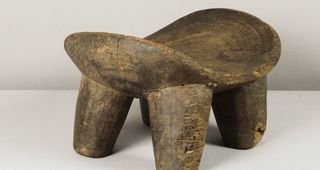 The African continent abounds with marvelous craftsmanship for the home: furniture in exotic, hand-sculpted woods, oversized woven rugs, or primitive, hand-painted pottery...There's something for all tastes and budgets.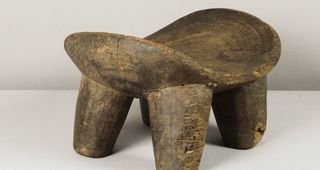 UPAGURU / ATELIERS C&S DAVOY
Stratigraphies in Whites - Opus 2
Reminiscent of a succession of geological layers, this artwork invites us to question our memory with all its strata. Technique : Paper, Powdered putty Support : MDF
AS'ART A SENSE OF CRAFTS
Zulu Brush, South Africa
Zulu brush, handmade in South Africa. Approximate size: W 5 cm, L 55 cm
TAKECAIRE
"Recycled" rugs
These recycled cotton rugs are hand-woven in Egypt by women from the Chiffoners community using a technique developed by textile designer Claire Bonardot. 5 different sizes and possibility of tailor-made. The color schemes are very varied. Contact us for any specific request. New colors available exclusively for the Digital Fair M&O
ATELIERS C&S DAVOY
Set of 3 Round Convex Mirrors Framed
Set of 3 round witch mirrors, in the 19th century Flemish tradition. These convex mirrors are called "witches' mirrors" because they were attributed magical powers. Placed in front of a window, they allow diffusion of light inside houses. Technique: Sculpted medium, Acrylic paint Support: MDF
AS'ART A SENSE OF CRAFTS
Vintage basket, Mbunda
Women of the small ethnic group Mbunda, in western Zambia, make these baskets for winnowing or storage of grain. They are made of makenge roots. Makenge is a shrub that grows commonly near water in the Mongu area. These vintage baskets show local damages and repairs that brings to it a unique charm and authenticity.
KANEM
Ibiseke "Agaseke ou Igiseke" Tutsi Basketries - Rwanda/Burundi
The Tutsi people from Rwanda / Burundi are famous all over Africa for their art of basketry. Elite women made with dexterity, according to the spiral, stitched technique called "Uruhindu", panels and baskets in vegetable fiber, with classic motifs as chevrons and zigzags called "Umurenzi". These delicat works were offered as wedding gifts or adorned the interior of the houses. The beautiful delicacy and regularity of the making and decor of the pieces, that we propose, are characteristic of the work of the first half of the twentieth century.
TAKECAIRE
Tounis "Palmier" bowl, bowl and salad bowl
Collection of a robust and refined traditional pottery series of cups, bowls, plates fully handmade and hand painted in the small village of Fayoum, on the edge of an oasis in Egypt. Its primitive, hand-painted pattern of palm-tree,shows how the African continent abounds with marvelous craftsmanship for the home. They are fabricated with local materials and a traditional enamelling techniques that had disappeared since the 13th c. and reintroduced by a Swiss ceramist in the 1980s. Tradition perpetuated today by 3 generations. Not suitable for use in the dishwasher or microwave
MAHATSARA
POUPEES NDEBELE
All of our Ndebele dolls are made within a rural women's community in Mpumalanga (South Africa). These dolls are available in 3 models ("ceremonial", "fertility" and "maiden") and available in multicolour, black and white or cream.
TAKECAIRE
FOLIAGE: Plates, Dishes, Cups, Pots etc...
"FOLIAGE" in honor of the sublime decorations with which they are adorned. A traditional Egyptian ceramic made with lathe on foot and hand-painted.The collection was designed in close collaboration with the young artisan potter Sameh of the 3rd generation of potters: one of TakeCaire's partner craftsmen, trained at the now famous Fayoum School, located in a small village in an oasis bordering the Nile Valley. The series is available in dishes, bowls, plates and decanters."Foliage" is an ode to the lush surrounding nature.
DANYÉ
Knitted Curtains
Product made of sisal, a very delicat grass from the mountains of Africa, hand knitted by women weavers from Eswatini with whom DANYÉ has been working in partnership since 2006. They are available in natural colour, white or grey. The sizes are 1x2 m or 2x3 m.
KANEM
Isicholo - Zulu Headress - Kwa-Zulu-Natal area, South Africa
Privilege of married women, these headdresses in ocher-coated hair were offered by the groom's family to the future bride, in the notable Zulu families. A star or dot patern adorns those of leader clan's women. Comes with an adjustable metal base.