Sophie Thuillier & Cristiano Benzoni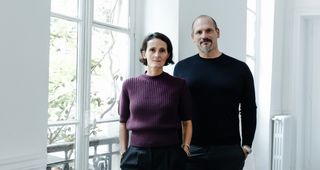 Sophie Thuillier and Cristiano Benzoni, founders of REV architecture studio in Paris, selected for you their favorite products on MOM.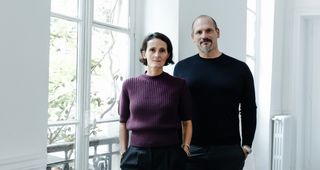 ICHEON CERAMIC
Korean Ceramic artist : Shin Kwangsub
Instead of using glazes after biscuit firing, Shin adds pigments to the clay. In addition, he doesn't use glaz- es on the exterior of his pieces, instead he creates a sheen by polishing. Glaze is only applied to the insides of his pieces. His technique results in pieces that combine art and commerce.
LIGNE ROSET
RUCHÉ
Ruché (gathered fabric that serves as an ornament on a garment) combines unusual and tradition. The unusual with an aerial solid wood structure and tradition with sophisticated quilting, the heart of Ligne Roset's know-how. Elegant and fine, Ruché is also welcoming and fluffy. Its two seat heights 38 and 46 cm will appeal to all clientele.
OH INTERIOR DESIGN
Extension Cord for 2 Plugs - Navy & White & Yellow
The translucent acrylic glass frame is made in Austria and assembled by OH Interior Design with two sockets and a textile cable. Yellow tube 3D printed in Austria. All parts are sourced in the EU. The OH logo is symmetrically engraved on the two side discs of the frame. Sockets: 2 identical side sockets (Berker) Plugs: Type F (Germany, other EU countries) Voltage: 230 V Cable : Length 5 meters Connector: With ring to easily remove the wall plug
DAITOU SHINGU
Kyo Wazarashi Mensya pajamas in black dyed gauze
Kyo Wazrashi Mensya is a series that uses cotton gauze made from the traditional Japanese technique. It creates a layer of air between each fiber, which makes cotton very moisture absorbent and breathable. The touch of gauze becomes even softer when it is washed several times. With no formaldehyde contained, our traditionally made gauze pajamas are highly recommended for delicate or sensitive skin. This is a special collaboration with Kyoto Montsuki with their fascinating traditional Japanese technique of black dyeing.
LA ROCHÈRE
WOUESSANT Tumbler
The Ouessant collection, sober in its details, contemporary in its line is inspired by drawing the background of the Breton canoes. Carefully ordered wooden slats. The collection has this roughness and simplicity, specific to the coasts of Finistère and their islands. Turning to the ocean, they know other horizons, but keep their generous roots well warm. Ouessant is a Breton island located at the tip of Finistère in the Atlantic Ocean. Capacity: 10,23 Oz
Sophie Thuillier & Cristiano Benzoni
Sophie Thuillier was born in Nantes in 1973. She studied at the School of Architecture Paris La Seine and obtained a scholarship that allowed her to spend one year at the School of Architecture of Porto. She graduated as an architect in 2000. In 1997 she began her professional activity at Ateliers Jean Nouvel. This collaboration allowed her to work on projects as diversified as the museum Reina Sofia in Madrid, the centre of congress and culture in Luzern, the competition for the new opera-house of Beijing, the competition for the new contemporary arts centre in Rome. In 2001 she left for Mexico to follow the Jvc project in Guadalajara. As project manager, she has been in charge of several international projects among which the urban project of residences in Saint - Jacques-de-Compostelle, the entry for Paris in the 2008 Olympics selection and the interior design of Agbar Tower in Barcelona. Cristiano Benzoni was born in Varenna, Lake Como in 1970. He received his Architecture degree in 1998 at the Politecnico of Milan, where he went on to work as a teaching assistant. Professional activity began in 1995 in Porto, under the influence of Alvaro Siza Vieira, Eduardo Souto de Moura, Alcino Soutinho and Fernando Tavora. Previous professional experience includes a long term collaboration with Jean Nouvel (Pritzker Prize 2008) since 1997. As project director, he has been in charge of several international large-scale projects such as the Agbar tower in Barcelona, the Omnilife-headquarters in Guadalajara and the technological campus « Kilometro Rosso » in Bergamo. In 2003, Cristiano Benzoni started his first associate office in Paris and established his collaboration with Lvmh Group. Some recently completed works include the Louis Vuitton flagship store on the Champs-Élysées in Paris, the Louis Vuitton Ginza Matsuya and Louis Vuitton Nagoya stores in Tokyo, as well as the new concept store for Céline, avenue Montaigne in Paris. Sophie Thuillier & Cristiano Benzoni founded REV Architecture in 2006.