Green home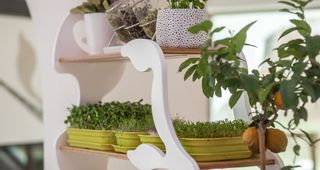 Protecting the environment starts at home! In the home, with best practices and sustainable purchases of eco-friendly, recycled, and recyclable objects, all of us, with minimal effort, can create a climate and an everyday life that is as virtuous as can be.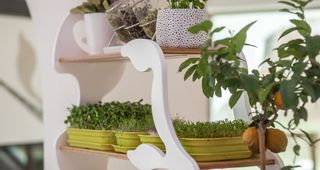 GILĖ SPROUT
Twig
Twig – decorative and very practical. This stepped shelf creates space for your fantasy and allows to grow different size plants. Beautiful thoughts start from healthy habits. Create them easily with the help of Twig. Begin with sprouting some seeds and finish with running your ecological mini farm in it. You will be surprised how easy it is and what a big pleasure this lifestyle can give.
LA TOUCHE ORIGINALE
Woodland - Wallpaper
Wallpaper features :Eco-friendly : PVC and toxic products free. 100% recyclable. Washable wallpaper : Soapy water and a sponge can remove a stain.Non-woven wallpaper : Mix of cellulose and polyester.Finishing : Smooth, chic and natural. Ultra flat finish with no sheenDense : The high-fiber content contributes to its excellent crack bridging properties.M1 European certification : FireproofMade in France
AMADEUS
Décoration "Noël"
Décoration "Noël"
EKOBO
Compostable Sponge Set
Let's wipe out synthetic sponges and single-use paper products ! Stock up on our reusable green alternative made from 100% natural materials - 70% certified cellulose, 30% cotton and vegetal dyes. Use and re-use them all over the house and better yet, outdoors (camping or boating) where disposal is even more delicate!
ORIGINALHOME 100% ECO DESIGN
Lampshade Bawang - S3
The Bawang lampshade attracts everyone in every room and emphasizes the philosophy of originalhome. The lampshade is hand woven in an organic, natural rattan shape and eco-friendly. Available in natural and black colour, sold in packs in 3 different sizes. Bawang lampshades are ethically made and come from small villages in Bali, Indonesia.
LES JARDINS DE LA COMTESSE
Bamboo tableware
Les Jardins de la Comtesse innovate for 2021 and launch their first collections of ecological and sustainable crockery : Green&Art Collection. This resistant bamboo fibre tableware is eco-sustainable, light and decorated with modern designs. This bamboo tableware is composed of 2 original and colourful themes: "Parrots": theme printed with pretty parrots and exotic flowers in many colours. "Wildflowers": Bohemian theme decorated with small flowers. BPA and PVC FREE Dishwasher safe Eco-responsible Hygiene Not suitable for oven or microwave use
QUALY DESIGN OFFICIAL
Lucky Mouse Storage Jar & Container + Scoop - Kitchenware : Kitchen Food Storage Container 100% recyclable.
You can find this lunar bunny in your own rice container to keep you company at all times and bless you with good health and longevity, even the moon is out of sight. Not to mention, it does a terrific job at scooping your rice and keeping you well-fed Our products are made from recycled materials and our eco-friendly packaging that made from recycled paper and soy ink. Our products are 100% recyclable Video Link : https://www.youtube.com/watch?v=Ao6w5nvA16k kitchen utensil - kitchenware - box - storage - food - cooking - tableware - dinning - gift - new year - kitchen -
VICTORIA MAGNIANT POUR GALERIE V
Daiku table in stained ash wood
The Daiku collection is a series of eco-designed pieces inviting simplicity. The surface of the wood is enhanced by a water shade rich in pigments and varnishes for daily use. The Daiku collection also consists of a stool, an armchair, a bench, and a small desk.
PLASTIKA SKAZA - EXCEEDING EXPECTATIONS
Kitchen composter - BOKASHI ORGANKO 2 (olive) made from recycled plastics
Le composteur de cuisine Bokashi Organko 2 est la réponse parfaite aux besoins du jardinage urbain et de la gestion zéro déchet. Il surprend par sa forme supérieure et impressionne par son utilité. Au lieu de le cacher dans les coins de votre maison, vous voudrez le mettre en valeur sur le comptoir de la cuisine. Le Bokashi Organko 2 est fabriqué à partir de plastiques recyclés post-industriels (polypropylène recyclé).
GLASS VARIATIONS
MONOLOG, "free shape" sustainable mirror
MONOLOG, free-form durable mirrorDesigned by two young and talented French architects (Exercice), it gives free rein to your imagination. It is available in 2 different size: Medium (90 x 90 cm) or Large (117 x 114 cm)Produced in Zeebruge (Belgium) and manufactured in Lille (France), this ecological mirror is certified by an independant organisation (Cradle to Cradle) : it has neither lead nor Volatile Organic Components.
ANOTHERWAY
Bee Wraps Range
Discover our range of Bee Wrap products, consisting of Bee Wraps, Bee Wrap Bags and Bee Wrap Rolls.These products are ecological and reusable alternatives (a hundred times), to conventional food packaging. Thanks to the different sizes available, they will allow you to pack all your food and optimize its preservation.The 3 products are lovingly made in France in Marseille in an ESAT, from cotton from organic farming, French beeswax, sunflower oil and Landes pine resin.
NUACOTTON
NUACOTTON GREEN NATURAL TOWEL
Does not contain chemicals such as bleach, alkali and softener. Natural color (it is dyed with 100% vegetable dyes. Natural process without chemicals. Permanent and natural softness. Ecological (less water and energy savings). Skin friendly. Dermotologically approved. Anti-allergenic and anti-carcinogenic. 100% Cotton. Available two sizes; Bath Towel 70x140 cm and Bath Sheet 100x150 cm