Linen, tailor-made for creativity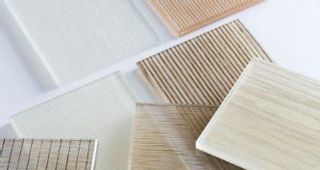 Innovation and ingenuity are in the spotlight! Linen, the ultimate eco-friendly plant, is also full of creative fiber! It's no surprise that brands and designers are seizing on the opportunities it offers, envisioning products that are both sustainable and unique. Linen can be made into tea towels, bath sheets or beach towels that are healthy and absorbent, graphical, heat-regulating throws, 100% botanical, naturally soft rugs, and even into hybrid materials for interior design. The range of options is vast and inspiring!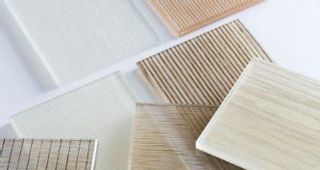 BISSON BRUNEEL
Fusion
Fusion est un nouveau concept , né de la rencontre de deux matières nobles "tissu et verre" . Grâce à un procédé unique , les tissus sont intégrés entre deux plaque de verres . Avec la collection Fusion , les projets deviennent uniques avec plus de 118 combinaisons possibles dans le choix des tissus.
LAPUAN KANKURIT OY FINLAND
KIVI zero waste soap scrub
ERO WASTE soap scrub mitt from left over fabrics! Our linen raw material comes all the way from the flax fields of professionals in Europe to be elaborately woven into a glorious linen fabric in our weaving mill in Finland. That is a journey we value and are not willing to waste. Therefore this summer we designed a solution. KIVI soap scrup mit, KIVI shower puff and KIVI hair turban are all sewn from the linen-tencel terry excess material. KIVI soap scrup mitt invigorates the surface circulation and exfoliates gently
SECRETS OF LINEN
Ecoline Rug
Ecoline Rug Yarn quality - 100% Linen non treated Color - 100% Ecru Our Ecoline rugs are made with 100% non-treated linen yarn. The yarns used are either bleached/white or ecru, which is the natural color of linen. Combining these two natural colors we achieve a breathtaking and relaxing rug. With our Ecoline quality we create our most sustainable non treated rugs.
TEIXIDORS
Throw blanket Sempre
The Sempre collection of linen blankets and cushions is inspired by the inherent textures of the woven basket, also made by hand and present across cultures. With this collection, Teixidors pays a small tribute to a trade in which the fabrics and objects invariably present in our lives, are created. Sempre shows a sophisticated, elegant, sober and essential side of an exceptional quality European linen. Possibility to offer customized sizes and colours
FERGUSON'S IRISH LINEN
French Collection - Linen Tea Towels
High quality 100% Linen Tea Towels woven by Thomas Ferguson at the foot of Ireland's famous Mourne Mountains. Sustainable and biodegradable, this tea towel is available in multiple colours. Made from fully finished fabric. Available in: Red Stripes, Navy Stripes, Hearts, and Spots. Size: 72cm x 56cm.
MAISON DE VACANCES
Boho 240 sofa
Stone washed linen sofa. With its 40 models and its 114 possibilities of colors and materials, the BOHO collection gives you 4560 good reasons, to come and sit with us quite simply!
LINEN TALES
Lotus Table Runner
Adding a unique touch to your table can make your centerpiece stand out - our Linen Table Runner is a fantastic choice for this. The perfect texture of hand-made fabric pieces will give you a touch of nature on your table. Choose from a wide range of solid colors and prints for an ideal invitation to the table for small gatherings or big celebrations to make life more beautiful.