Italy makes materials look sublime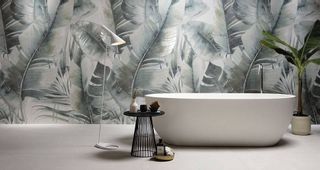 Italian craftsmanship is not just about creativity and the mastery of sometimes ancestral techniques. It's also about the art of bringing enchantment to materials. Wood, metal, stone, glass, or ceramics are some of the many domains that these companies explore with talent, ingenuity, and style.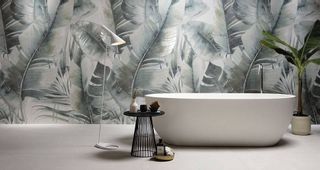 FAP CERAMICHE
BLOOM Coverings
The largest wall tile is Bloom, by FAP Ceramiche. The brand-new 80x160 cm size brings a seamless look to spaces, expressing the personality of the people living in the home thanks to the new patterns and endless application options. This new series of wall tiles can be used to create walls with surprising graphics and as few joints as possible; until now, no-one had ventured into the production of such large white-body wall tiles.
DIALMA BROWN
Chest of drawers
Sideboard with 4 Angular and Decorated Doors, Sliding Opening for Book, Wooden Frame, Metal Base
PIMAR
Natura (pocket emptier)
Natura is a collection of pocket emptiers/trays with different functions, suitable both for home and office, made of Pimar natural limestone. The combination with soft fabrics, as a variant, recalls the colors of the local territory. Ralized by Apospersano.
CARLO MORETTI
Colate Vases 2020
Re-edition of Colate Bleu vase "Carlo Moretti Studio" designed in 1992. Two different decorations: Red with silver leaf flows Aquamare with blue flows Mouth blown Murano glass vases and hand-made "flow" decoration. Carlo Moretti 2020
L'OPIFICIO
ARCHITRAME TORRI Collection
ARCHITRAME TORRI is a jacquard fabric for upholstery and interiors designed by Lanzavecchia + Wai design studio for l'Opificio. A damask, Torri pattern, it is inspired by architectonical elements with a silk haptic thanks to the finishing processes used. It is available in 7 colour variants. 100% Made in Italy, formaldehyde free
ALONPI CASHMERE
Belay
Cashmere throws
ROU MATERIAAL
CUMULO ORO SCULPTURE
SCULPTURE in cedar worked with resin, acrylic and sand, part of the numbered Nubi collection.
WALL&DECÒ
JUNGLE OF SIGNS Wallpaper
Custom wall covering available either in non-woven fabric and vinyl (CWC) or in new eco-friendly substrate 100% recyclable (CWC-ECO) by Wall&Decò.