Circus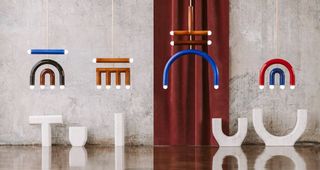 Acrobatic lighting, contortionistic objects, and harlequin furniture... decor puts on a show, making interiors look like a pathway to the stars.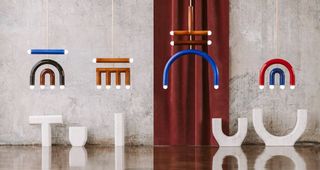 PANI JUREK
TRN light, model F2
The lighting fixture is part of TRN collection. Three dimensional objects inspired by Tarasin painting have a simple calligraphic form so they can play and talk together as if they were letters from a non-existent alphabet. The hand crafted process of glazing ceramics gives the collection a truly unique character. It is finished with brass elements.
ALTREFORME
CAMICIA CORTA CABINET
A wardrobe that harmoniously combines elegance and colour. Camicia corta is available in different colour mixes.
SESAME OUVRE-TOI
Harlequin Door
Sliding or opening interior door model Arlequin. Graphic and symmetrical effect. In laminate, one side decor and one plain side. Dimensions: 830*2040*38mm thick. Other possible dimensions, bespoke also on request. Honeycomb texture or solid core, several colors available. Rational and responsible manufacturing, with every order, Sesame, Ouvre-toi offers you a tree with Reforestaction®
ESSENTIAL HOME
CHARLIE | Suspension
Starring the popular Farrah Fawcett, Charlie's Angels were one of the most iconic TV series from the old Hollywood culture. This popular show was the inspiration behind Masquespacio's unique Charlie suspension piece, a lighting design that is made with three strong round shapes fixtures that translate both presence and style into any project type, from a hotel bar to a modern dining room space.
HENRI BURSZTYN
_O wall lamp
_O is a series of circular luminaires with indirect lighting and very soft. A true technological feat, the LEDs are integrated into a ring only a few millimeters thick! The light points are invisible for a continuous flow of light. _O comes in 3 versions: to be placed on its base in brushed magnetic steel, suspended held by the cables that power it, and a wall lamp powered by a cord to choose from more than 70 colors. For perfect comfort, the light intensity of the _O series is dimmable, controlled remotely using a remote control
POP CORN
DOMBO MUG by RICHARD HUTTEN
DOMBO, the most playful of children's mugs. Very resistant, it catches instinctively thanks to its large coloured ears. DOMBO is very easy to hang in a kitchen and several DOMBO stack up wonderfully. DOMBO becomes a beautiful pencil pot as soon as the child grows up. Mug/Pencil Pot _ Design Richard Hutten _ H9 X L26 X D8 cm _ Polypropylene _ Several colors available _
SCARLET SPLENDOUR
Oasis Cabinet Snow
Oasis Cabinet Snow is a pristine white cabinet with scarlet interiors. It is covered in gleaming brass spheres reminiscent of thorns on a succulent cactus.
ROYAL STRANGER
CHARLES ARMCHAIR
Inspired by the 70's, the versatile Charles Armchair balances opposing and contrasting textures perfectly. The solid and straight armrests, allied to the smooth and curve shaped seating area, interpret the ultimate comfort through a combination of everlasting and attractive design. Thanks to its size, the exuberant Charles Armchair has a wide and deep seat for a relaxing cuddle after a long day. Its accentuated curve lines and perfect poise work very well as a statement piece while the bold and robust structure captures attention in a wider room
MUGEN MUSOU BY IWATA
GRAIN Walnut
We seek to create "playable objet d'art" that are beautiful to display and enjoyable to play with. We pay close attention to details and it has a finish that lets you feel the wood's grain and surface. It also has a comfortable soft touch, and smooth and beautiful curves created by the lathe. The contrast between light and shadow is like a beautiful sculpture, and you can feel that its existence enhances the space around it.
IBEBI SRL
BIO
In the eco-friendly path taken, the Bio's collection represents for us a first great goal. Manufactured according to the European standards of ecological sustainability, Bio is actually made up of recycled polypropylene. The Bio chair can be stacked up to 10 pcs and it has the seat and the backrest in polypropylene and a rectangular-shaped steel pipe frame. The seat is also available upholstered and covered with fire-proof fabric Mirage or fire‑proof eco‑leather Planet. The Bio's accessories are: linking devices and the trolley-chairs.
BITTEN
Bitten Surreal Mugs, set of 3 stackable mugs.
Have some surrealism drinking your coffee or tea from this surreal mug set. Our set of 3 mugs stack together to form a face. Individually made from porcelain with a mat finish and hand painted details.
GRAZIANI
Meloria twisted candle "Denise" - Classic
Meloria luxury twisted candles are distinguished by their extremely shiny finish, achieved by hand by our artisans. Each candle is first dyed by immersing it in a special opaque wax bath. After at least 24 hours, the candle is immersed a second time in a natural cellulose-based varnish which is allowed to completely dry for up to six days. Packed in an elegant gift box branded Meloria. Available in 28 different colours.
MAKERS.STORE BY DESIGNERBOX
Vase Álvaro
For your design projects, Makers.store offers you, among its 3000 products, the Alvaro by Warren & Laetitia Vase. The Álvaro vases is a collection of three containers developed following the studio's Álvaro collection of objects. The vases take up the characteristic motif of this collection in XL format and offer a set of playful objects to be composed according to your desires. This object is made by 3D printing in rPLA designed from recycled plastic food packaging and in rPETG designed from 100% recycled plastic bottles.
SCARLET SPLENDOUR
The Circus Side Table
The Circus is a gorgeous versatile small round table.