DIGITAL DAYS DESIGN BY - Essential lines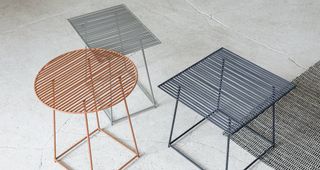 Beauty and utility are two words that aptly describe contemporary design. The pieces presented here are just right; they go to the essence of things, and their forms reflect clean lines, perfect circles, or the right balance between elements...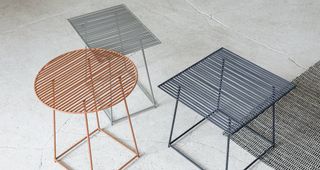 DIGITAL DAYS MAISON&OBJET | DESIGN BY | 5 to 11 JULY 2021
Want to discover the newest DESIGN BY collections and product innovations? Here's a selection of brands whose products perfectly combine beauty and utility, awaiting your discovery on MOM!
DIGITAL DAYS MAISON&OBJET | DESIGN BY | 5 to 11 JULY 2021
Want to discover the newest DESIGN BY collections and product innovations? Here's a selection of brands whose products perfectly combine beauty and utility, awaiting your discovery on MOM!
SERAX (IN THE CITY)
Rudolph by Vincent Van Duysen
The Rudolph sofa comes in a freestanding version, in a two to three-seater size, and single-seaters, with side tables in wood and marble tops. The freestanding side and centre tables complete the collection. "I chose to work with solid black or cognac tinted wood and marble for their texture, warmth, and tactility. All fabrics selected for this collection are custom made in Belgium and come in off white, beige, sand, smoke and bone color schemes. "Rudolph is an organic and super comfortable sofa range as well as extremely versatile. Both very Serax and very Vincent Van Duysen.
SOMOSDESIGN
Punk Vases
Alva is a furniture and object design studio founded by Susana Bastos, artist and Marcelo Alvarenga, architect and located in Belo Horizonte, Brazil. The encounter of architectural and artistic vision, lead to the creation of unusual, different and exciting collections. The use of Brazilian raw materials and craftsmanship skills provide a sensual, elegant and unique aura for each object. The Punk Collection consists of three vases celebrating punk and the wild side of life.
FORMAGENDA
SUSPENSION PROFILE
PROFILE. The name already gives an overview of the concept. A sophisticated profile serves as the basis for the different variants of the PROFILE luminaire family. A minimalist concept with the highest level design forms a linear system for a wide variety of applications. Perfectly chosen sections and rounds form the concise outline, which is reminiscent of the typographical elements and gives PROFILE its own, striking and graphic appearance. It comes with a sturdy powder coating, an elegant anodized surface or a thin vegan leather coating.
ALESSI
Industrial Craftsmanship - Alessi 100 Values Collection
Twergi collection - MILLS Sottsass collection offers a reissue of some of Ettore Sottsass's finest creations for the collection of wooden objects that have enriched the Alessi catalogue from 1989 onwards. The Twergi adventure, initiated in 1989, is a fine example of upgrading centuries-old know-how transmitted by generations of touring craftsmen from Val Strona, on the shores of Lake Orta. Essential items in any kitchen and at the table for daily meals, these mills are a nod for fans of the designer's iconic totems.
WALL&DECÒ
NORI wallpaper
Essential Wallpaper Non Woven Fabric and Vinyl Wallpaper by Wall&decò
NOMA
Candle PEDRA 99.6
Pedra is a collection of objects. Manifests. They are made of abandoned stones in a quarry in Portugal.
JAIPUR RUGS
Pink Illusion Rug
The rug brings alive the architectonical Sundial, the Jantar Mantra, built in the 18th Century.
TUBES RADIATORI
STEP-by-STEP radiator
Step-by-Step has a solid aluminium body with a surface broken up into pleated elliptical modules. The observer's look determines its beauty: depending on the point of view, the perspective changes the object's shape. Games of light and shadow rouse ever different emotions. The overlapping elements are like pages of a book perused gently and they afford a vibrant sense of motion. The radiator can be installed individually or side-by-side with another, thereby creating four possible configurations.
NOMA
ARCA 88.1 Console
Arca is a travertine console. It is made of 88.1% recycled material. It is made in UHPS ©, a technology that allows the stone to be shaped. Arca comes in 3 sizes.
MAISON POUENAT
Wall light SUNSET
Finishes: Grooved brass, smooth brass. Textured glass. Size: Width 41 cm, Deep 11 cm, Height 35 cm 26W (LED Strips) Creation date: 2018
MANUFACTURE
Luizet Sofa
As in a game that frees the imagination and possibilities, Luizet is a modular sofa system that invites to combine together various elements by a distinctive geometry. An arched angular piece, a central square and a circular one, available both as a table and as a pouf, are the foundation for a variety of settings. Supported by a discrete and elegant metal frame, the three modules can be juxtaposed and mixed with the addition of cylindrical and rectangular cushions for the backrest. From a classic three seater sofa to a number of wider and more complex solutions.
DRAGONFLY
View from the sky - Guéridon
The Vue du Ciel pedestal table is a contemporary piece that celebrates natural materials. This table combines two elements: glass and metal. In contrast, the harmony of materials and colors is perfectly balanced. The lines of the glass top with strata effects and those of the encroachment answer each other deliciously. Exceptional object, the result of the work of a designer and his extraordinary talent that he put at the service of the sky and its galaxies.