Linen, the ultimate charmer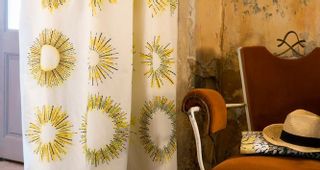 Whether it's in gently neutral pastel shades or in bright, stunning colors that add a joyful touch, or even in darker tones that create a majestic feel, linen enchants us, both indoors and out. In bedding, household, or bath linens, in curtains, or cushions, linen transforms any home and perfectly matches with graphic, ethnic, or geometric patterns, adding character to any interior.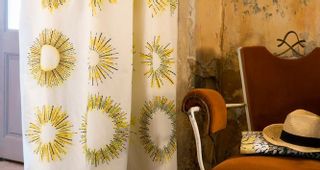 ÉLITIS
Esprit
Radical. Raw. Natural. A body-to-body with linen, which claims its era on Earth and defies the time of mankind. Esprit explores an aesthetic territory virgin of any preciosity, as close as possible to purity, a flirtation of time immemorial with austerity. It is part of the family of these new materials which rethink luxury and exception, totally opposed to glitz and opulence, as if to repair souls. While Fragments, inspired by a Japanese Boro document, explores the scars of time through a technical feat that gives it a patched, sewn, gathered,
GRAZIANO FRATELLI FU SEVERINO
LINO 6262 Fabric
Lino 6262, 100% pure linen, h. 300 cm, available in different colours. This fabric can be used to make duvet set, tablecloths, runners and curtains.
PIERRE FREY
Sunny Upholstery Fabric
Collection of crayoned suns by Victoria Maria Geyer, summer yolks radiate on this hand printed and embroidered cotton canvas. This pattern is also available in wallpaper and carpet.
LIBECO HOME
SWIMMERS STRIPE
This pure linen twill stripe in a leather and white sand colourway was inspired by the huge success of The Workshop Stripe. I sort of think of these all-over stripes as solids, because you can use them that way. We show this collection with the new Lys coverlet, but it will look beautiful with the accessories of last July as well. Available in duvet cover, pillow case and pillow sham Colour: Stripe 100% LI – washed finish 200 g/m²
ÉLITIS
Escale
In a daydream, hit the road and follow the lifelines of a territory ... More in love with travel and freedom than ever, this collection flees gloom for a vibrant stopover in subSaharan Africa. Lively, invigorating, its geometric patterns are precious moving landmarks on fabric: traversing topographic lines, aligning singular encounters. With their tonic accents and their arty spirit, they retrace the trail of nomadic objects, age-old weaves of the Shoowas or Yorubas, tribal sculptures and then converse with street art in Dakar.
GRAZIANO FRATELLI FU SEVERINO
Linea Essere Hipster des.1
Linea Essere Hipster (wrinkled) des. 1, 100% linen, h. 290 cm Available in these colours: crema, melange, fumo, bruciato and parà.
PIERRE FREY
Exotic Patio Wall Coverings
Change of scenery assured with this sunny wall made of colored ceramic tiles and hand-painted succulents, with gouache perfectly reproduced thanks to the quality of a digital print in large width on matt non-woven fabric.
LIBECO HOME
THE BELGIAN TOWEL - Old rose
There are three new designs this season, all very different from each other! Old Rose carries stripes in evergreen, old rose and mustard on a mahogany ground, with a fringe in flax. Available as fouta (110x180cm), guest towel (55x65cm), small fouta (35x50cm), pillow cover (50x50cm) and pouch (23x16cm).