WHAT'S NEW? Share - Maison&Objet September 2021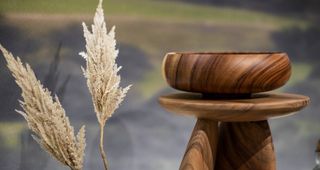 Discover products of WHAT'S NEW? Share exhibition of Maison&Objet Paris fair in September 2021. A selection made by Elizabeth Leriche, François Bernard et François Delclaux, which primarily analyzes the art of entertaining.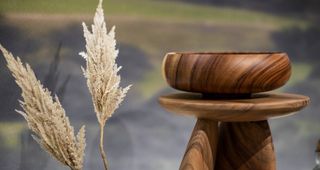 ATHENA JAHANTIGH
Wall Gazelle Sculpture - Head
Sculpture to be installed on wall or to pose.
BOEE
Cilar
Cilar is a novel free-floating, sculptural constellation of circular glass elements. The equally-sized crescents are made of borosilicate glass tube, each handcrafted in the Czech Republic. Rotating gently and slowly, these shadow-casting and light-reflecting objects emanate a calming and serene mood. Cilar is available with a nickel-plated aluminium chain or with a finely braided cord.
KARINE DENIS
Sculpture in Earth - Instant Mineral
Inspired by minerals and landscapes. Earthen blocks with natural curves. Unique pieces entirely made in my workshop in Brittany. Made in France.
MADAM STOLTZ
Glass vase w/ leaves
Glass vase w/ real leaves Natural materials and handmade items may vary in shape and colour Clear, green
MY ALPACA
LUXURY HAND-WOVEN ALPACA&CASHMERE THROWS
Designed using the highest quality baby alpaca fiber, sourced from Peru – the softest alpaca fiber in existence, obtained from the animal's first sheering at around one year of age. Lightweight, soft and breathable, baby alpaca is considered one of the finest natural fibers in the world. For our collection of handwoven throws, baby alpaca yarn is combined with luxurious cashmere and merino wool to ensure higher durability, softness and an extremely fine & silky touch feeling. Plain and Double-sided weave in a beautiful, soft, nature inspired color palette.
YADI
PLATE INESXYADI
white ceramic dinner plate. Unique collaboration with Ines de La Fressange
BROSTE COPENHAGEN A/S
MAGGIE SHELFS
• \ La petite étagère présente un design élégant et fin avec deux étagères, offrant un double espace de présentation pour les tasses, les verres et les petits objets• \ tConçue pour optimiser l'espace, l'étagère à deux niveaux est une excellente solution peu encombrante qui permet de libérer le comptoir ou l'armoire. \ tUtilisez-la dans divers environnements, comme la cuisine, le bureau ou la chambre à coucher pour une solution de rangement organisée• \ tDisposez deux étagères horizontalement ou verticalement pour un look répété et deux fois plus d'affichage
VETROFUSO DI DANIELA POLETTI
"Bauhaus" Tray 34x24cm
100% Murano Glass tray, inspired by the Bauhaus style and handpainted with pure gold. All our items are entirely handmade in Italy and fully customizable in terms of color, size, shape and decoration.
FIORIRA UN GIARDINO SRL
24 set of 6 methacrylate glasses (144 units)
The transparent colored spiral glasses are made of TOP QUALITY methacrylate, a plastic material that is more transparent than glass, resistant to UV rays and 100% recyclable. Dishwasher safe with neutral detergent, at a maximum temperature of 60 degrees, on the top shelf of the machine. Dry with a soft cloth after washing. Designed to be perfectly combined with our collections of vinyl tablecloths, pvc underplates, 100% linen napkins with colored border and abaca. Available in 15 different shades and sizes.
ANNE KRIEG, CERAMISTE
Milky Way Bandeau Bowl
In the "MILKY WAY" range, each piece is unique in its shaping and enamelling with more or less crystallized and iridescent effects. The contrast between smooth and matte surfaces magnifies stoneware and glaze. 3 sizes available: 300 ml, 600 ml, 1000 ml. Weight between 240gr and 450gr. Diameter 10cm,13cm,17cm. White sandstone or corn. Retail price advised 40€, 50€, 60€. The use of the dishwasher, the traditional oven, or microwave is advised. The range is imagined and designed in my workshop in Toulouse.
BROOKLYN CANDLE STUDIO
Palo Santo soap
Notes of black peppercorn, green carda- mom, velvet wood, and rich amber combine to form a warm, green aroma reminiscent of cozy mulled drinks simmering on the stove.
LAINES PAYSANNES
Hand-woven InterLines Rug No.IL02M
Our most rustic but also the most noble wools are selected for the manufacture of unique carpets, which are both dense, raw and refined. Woven by hand in our workshops, they highlight the ancestral gestures of weaving. Our InterLines carpets are an expression of time and the immense space of all possibilities, singular pieces bearing simple, ethical and timeless values. Traditional weave on manual loom, rug 96 x 102 cm, 100% wool (tarasconnaise unbleached warp, Basco Béarnaise weft, scotch mule lines).
Elizabeth Leriche, Director - Elizabeth Leriche // François Bernard, Founder & CEO "Croisements" agency // François Delclaux, Founder and Director "Un Nouvel Air" agency