French design and creativity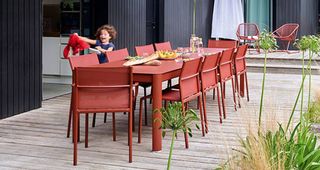 Graceful lines and innovative materials: internationally renowned French creativity takes a fresh approach to skilled craftsmanship and breaks the rules of design. This September, discover the selection from the My Furniture is French collective!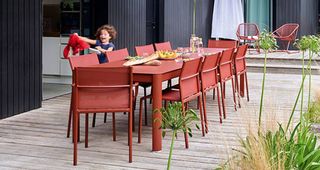 LYON BÉTON
curb - concrete coffee table
Curb coffee table is a complex yet harmonious mixture of several eras, several styles. The bas-relief recalls the fine details from art deco buildings of the early twentieth century with a motif inspired by the shapes and proportions of the BAUHAUS school. The niche surmounted by a smoked glass is a tribute to the 70s. The overall style is far more contemporary, inspired by our urban environment: the streets, the concrete and the poetry that sometimes emerges when you know how to look at it. The top is a concrete block floating at 25 cm from the ground, raised by 4 solid metal bars.
MAISON TAILLARDAT
EASY CHAIR MARSAN
H 91 - W 67 - D 77 cm H 36 Style L XVI Beech
RED EDITION
Be Good coffee Table
Les tables basses Be Good sont de petites tables d'appoint élégamment soutenues par 3 panneaux, et disponibles en deux dimensions que l'on peut combiner façon gigogne. Elles se glissent au bout d'un canapé, font leur show au centre du salon en duo, s'inventent tables de nuit...Leur bois laqué en ivoire ou rouge leur apportent une touche japonisante chic et low profile.
DRUGEOT MANUFACTURE
3 MÂTS Library
11 niches coulissent et 7 pivotent sur 3 axes pour former cette bibliothèque modulable suivant vos besoins. DIMENSIONS H. 232CM X L. 82CM X P. 22CM - Dimensions intérieures : Niche carrée : H. 19CM X L. 23CM X P. 18CM - Niche rectangulaire verticale : H. 45CM X L. 19CM X P. 18CM - Niche rectangulaire horizontale : H. 19CM X L. 49CM X P. 18CM - POIDS 35kg. MATÉRIAU Chêne français 100% massif issu de forêts gérées durablement - FINITION Vernis mat. LIVRAISON Livrée montée - INSTALLATION Éléments à ajuster à la hauteur de votre choix avec les taquets fournis - Fabriquée en France, Anjou
DELAVELLE
Pilpil Chair
The PilPil chair is entirely handcrafted in our workshop in Saulnot, in eastern France. Its structure is made of solid wood and its seat and backrest are made of noble wood plywood over the entire thickness. The flexibility of the seat and the curvature of the backrest provides ergonomic comfort. This kitchen/dining chair is stackable and therefore easily finds its place in restaurants and communities. It is available as standard in oak, beech and French walnut, oiled or varnished but can also be fully customized.
DUVIVIER CANAPÉS
ELSA
ELSA, with a full range — sofas, armchairs, drivers, chaise longue, daybed and ottomans — evokes the elegance of American stylist Roy Halston and her muse, Elsa Peretti, the jewellery designer for Tiffany. The clean and square lines are counterbalanced by the curves of large duffles strapped on the seat cushion.
MAISON POUENAT
Chair HUG
This is the flagship piece of the collection. This chair of exception is defined by its smartly arranged hammered bars. The velvet seat completes the set. Finishes: Black lacquered hammered aluminium. Velvety aluminium Brilliant polished brass Size: Width 53 cm, Prof. 47/52, Height 43/64 cm
OBJEKTO
Paulistano Armchair
A must-have lounge chair designed by Paulo Mendes da Rocha, winner of the 2006 Pritzker Prize. Very comfortable, the Paulistano lounge chair is a classic piece in timeless chic design.It has been part of the permanent collection of the Museum of Modern Art of New York (MoMA) since 2007.The Mesh Edition is 100% with stainless steel, while keeping its comfort
HOME SPIRIT
VANG SOFAS
VANG: Large, generous, spacious and contemporary. Available in several sizes: - Bastard 2 places G/D: 130 cm - Bastard 3 places G/D: 150 cm - 4 places: 220 cm
LAFUMA MOBILIER
ANCÔNE Armchair - Allure
GAMME REPAS ANCÔNE Une gamme repas fabriquée en France, fondée sur l'épure et la technicité pour des meubles aussi beaux que faciles à vivre ! ANCONE Fauteuil. Un fauteuil aux accoudoirs tout en courbes signé par le studio BIG-GAME design. Lignes claires et graphiques, cette assise matelassée mixe avecbrio style et fonctionnalité ! Confortables et empilables, les fauteuils ANCÔNE ont une traverse de dossier pour faciliter la manipulation. Pratique, la forme de l'accoudoir permet aussi de les suspendre à la table pour un nettoyage facile du sol.
FERMOB
RIBAMBELLE & RIBAMBELLE XL tables
Ribambelle is Fermob's plural table - 1 standard version available with 1 or 2 extensions of 42 cm and 1 XL version with 3 extensions of 50 cm - designed to share a host of good times. This collection could not bear its name better.Another of its characteristics, its modularity to adapt the table to the number of guests (up to 14).. Modularity yes, but invisible! When it is closed, nothing hinders its aesthetic appearance! Light, thanks to its aluminum composition, it will also withstand all climates!
LOUIS ROITEL
Abel Chair
The name of this chair is a nod to the son of one of the designers, born the same year. With its pure, almost aerial lines, and skis that glide easily on the thickest rugs, this armchair could not be better named: "Abel" means breath, inspiration in Hebrew. Its sobriety silhouette, cleared of any superfluous detail, resolutely invites to lightness and travel. Soften and lighten life, to better go to the essentials... The Abel armchair has fully realized the original ambition of its creators.
MAISON DRUCKER
Medicis Headboard
Headboard in lacquered bark rattan and flat weave in natural fiber and Rehau.
MOISSONNIER
Small living room writing desk - ref. 747
On the front, a drawer forming writing desk, leather top, a drawer at the bottom. One side drawer. Bronze style and antique brass gallery. Small piece of furniture that can be used in a living room, an entrance, a bedroom... French beech from sustainably managed forests. Customizable FINISHES. Fine cabinetmaking since 1885. Made in France (Ain) on demand (delivery time of 8-10 weeks)
ALKI
Hiruki stool
This is a history of tradition and transmission that dates back to 1940s in the village of Sara. At his farm, José Miguel Barandiaran, the famous Basque ethnologist, had a favourite stool that he entrusted to a member of the Iratzoki family, whose trade was woodcraft. It was transmitted and manufactured first by the great-uncle then by the father of the designer. This is how the ordinary stool became an "extraordinary" object for Jean Louis Iratzoki, who reinterpreted this heritage with the Hiruki. To find out more: http://alki.fr/en/product/7206/Accessories_Stools/
MATIÈRE GRISE
Wind Low tables
Wind: 3 tables, 3 geometrical shapes on the surface of which folds are drawn, like a wave on the water under the effect of the wind. The composition by 3 allows all the play of colors, from the softest to the most intense. All you have to do is choose from our palette of 40 colors. Indoor version only. Made in France
DESIGNERBOX
ELO lamp.
Exclusivité de DesignerBox, dessinée par Bina Baitel, ELO est une lampe nomade d'exception, aussi à l'aise en intérieur, qu'en extérieur. Avec son design iconique en forme de bouteille, elle crée une ambiance chaleureuse sur suspendue en terrasse ou à la table d'un restaurant. Dotée d'une puissante intensité lumineuse réglable du bout du doigt et d'une autonomie allant jusqu'à 10h, la lampe ELO est un condensé de ce qui se fait de mieux sur le plan technologique. Disponible en 6coloris. Résiste aux intempéries-Existe aussi en version ELO baby
RÉSISTUB PRODUCTIONS
Edgar chair
With its simple and pure design, the Edgar chair is timeless. Our in-house designer, Stéphane Elineau, chose to combine solid oak and steel.
SIFAS
BASKET dining chair
Dining chair in Basket collection. Available with armchair, sofa and coffee table. Seat cushion
VOLEVATCH
Vanity table, Heritage Collection
What would the most beautiful bathroom fixtures be without the perfect companion to offer a truly genuine relationship with water? Bathtubs, sinks, basins, bidets, toilets, as well as shower bases are availade in a plethora of perfectly coordinated styles. Here, you can let your imagination flow freely, creating the most sensible, or even the most daring combinations.