Furniture that's easy to live with!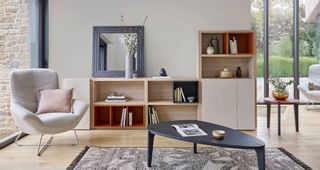 Finely-made French furniture stands apart from the rest, with its premium manufacturing quality. Precise handiwork, masterful techniques, and select materials: such are the secrets of top-quality, beautiful, and long-lasting furniture that makes every day better!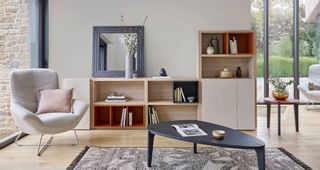 CIDER
FlexCab
FlexCab allows us to create micro-environments within the workplace, adapted and adaptable to the needs and activities of collaborators: to meet, to call, to concentrate, to collaborate, or to relax and to rest. FlexCab also reconciles user expectations with business objectives. Functional, the cab panels are available in a variety of colors and materials to create new dynamics: glazed or lacquered walls, magnetic writing surfaces, or fabric-covered to reduce sound.
OBJEKTO
Paulistano Armchair
A must-have lounge chair designed by Paulo Mendes da Rocha, winner of the 2006 Pritzker Prize. Very comfortable, the Paulistano lounge chair is a classic piece in timeless chic design.It has been part of the permanent collection of the Museum of Modern Art of New York (MoMA) since 2007.The Mesh Edition is 100% with stainless steel, while keeping its comfort
DRUGEOT MANUFACTURE
3 MÂTS Library
11 niches coulissent et 7 pivotent sur 3 axes pour former cette bibliothèque modulable suivant vos besoins. DIMENSIONS H. 232CM X L. 82CM X P. 22CM - Dimensions intérieures : Niche carrée : H. 19CM X L. 23CM X P. 18CM - Niche rectangulaire verticale : H. 45CM X L. 19CM X P. 18CM - Niche rectangulaire horizontale : H. 19CM X L. 49CM X P. 18CM - POIDS 35kg. MATÉRIAU Chêne français 100% massif issu de forêts gérées durablement - FINITION Vernis mat. LIVRAISON Livrée montée - INSTALLATION Éléments à ajuster à la hauteur de votre choix avec les taquets fournis - Fabriquée en Anjou, France
NICOLLE CHAISE
CHAIR NICOLLE® H60 METAL
Beautiful, balance of proportions, this metal chair is perfect for kitchen islands, to high workbenches and countertops of 90cm...In the world of hospitality, bars and restaurants; it will find its place around the eat-standing and high tables.The low grip on the floor of this Nicolle® metal chair allows it to slip discreetly under the plane after use.
GAUTIER KIDS
Graphic Desk
This desk design integrated into an unstructured style space. The wooden and metal desk legs for an undoubtedly contemporary look. Its natural oak finish guarantees a Nordic style, which adapts to all home worlds. Practical, the GRAPHIC desk offers several storage spaces. The furniture from the GRAPHIC collection is of French certified design and manufacture. Discover our new online catalogue: https://www.gautier-furniture.com/ecatalogue/kids/2021/en/
MAISON DRUCKER
Medicis Headboard
Headboard in lacquered bark rattan and flat weave in natural fiber and Rehau.
LYON BÉTON
curb - concrete coffee table
Curb coffee table is a complex yet harmonious mixture of several eras, several styles. The bas-relief recalls the fine details from art deco buildings of the early twentieth century with a motif inspired by the shapes and proportions of the BAUHAUS school. The niche surmounted by a smoked glass is a tribute to the 70s. The overall style is far more contemporary, inspired by our urban environment: the streets, the concrete and the poetry that sometimes emerges when you know how to look at it. The top is a concrete block floating at 25 cm from the ground, raised by 4 solid metal bars.
EMDE
SMALL GOLDEN ARCH MIRROR
Miroir doré en forme d'arche - 18X25CM
BONNET MANUFACTURE DE LITERIE
Matelas Climosor
The Climosor 26 cm model equips many star hotels.Meet the criteria of the current sanitary standards, its balanced comfort makes it possible to meet the wishes of all types of sleepers.Pocket springs provide support and ventilation, CLIMOSOR 26 cm is the mattressideal for rent apartments and Guest rooms.
GAUTIER OFFICE
E-MOTION Executive office
Airy design desk, positioned in a very contemporary style for refinement lovers.
RM MOBILIER
Armchair metal PANAME
Vintage spirit for the paname metal terrace chair. Chair, armchair and metal stool, the PANAME range is the perfect retro metal furniture to arrange your balcony or garden terrace. Complete the collection with Paname chairs and stools!
GAUTIER
VERSA Chairs
The curved and enveloping lines of the VERSA chair combine elegance and seating comfort for all body shapes.The matt black steel tube structure is a strong aesthetic element of the chair and gives it a signature full of elegance.
RÉSISTUB PRODUCTIONS
Edgar chair
With its simple and pure design, the Edgar chair is timeless. Our in-house designer, Stéphane Elineau, chose to combine solid oak and steel.
DELAVELLE
Pilpil Chair
The PilPil chair is entirely handcrafted in our workshop in Saulnot, in eastern France. Its structure is made of solid wood and its seat and backrest are made of noble wood plywood over the entire thickness. The flexibility of the seat and the curvature of the backrest provides ergonomic comfort. This kitchen/dining chair is stackable and therefore easily finds its place in restaurants and communities. It is available as standard in oak, beech and French walnut, oiled or varnished but can also be fully customized.
HOME SPIRIT
VANG SOFAS
VANG: Large, generous, spacious and contemporary. Available in several sizes: - Bastard 2 places G/D: 130 cm - Bastard 3 places G/D: 150 cm - 4 places: 220 cm
LAFUMA MOBILIER
ANCÔNE Armchair - Allure
GAMME REPAS ANCÔNE Une gamme repas fabriquée en France, fondée sur l'épure et la technicité pour des meubles aussi beaux que faciles à vivre ! ANCONE Fauteuil. Un fauteuil aux accoudoirs tout en courbes signé par le studio BIG-GAME design. Lignes claires et graphiques, cette assise matelassée mixe avecbrio style et fonctionnalité ! Confortables et empilables, les fauteuils ANCÔNE ont une traverse de dossier pour faciliter la manipulation. Pratique, la forme de l'accoudoir permet aussi de les suspendre à la table pour un nettoyage facile du sol.
RED EDITION
Be Good coffee Table
Les tables basses Be Good sont de petites tables d'appoint élégamment soutenues par 3 panneaux, et disponibles en deux dimensions que l'on peut combiner façon gigogne. Elles se glissent au bout d'un canapé, font leur show au centre du salon en duo, s'inventent tables de nuit...Leur bois laqué en ivoire ou rouge leur apportent une touche japonisante chic et low profile.
EUROSIT
HOST Range
This program will be ideal for your receptions where the sympathy of the products rhymes with the cordiality of exchanges. Contemporary in spirit, vector of a high-end image without being cumbersome, it sublimates spaces. With a cosy spirit, endowed with different aesthetics, this range offers material to satisfy all desires in terms of layout. Featuring 10 seats with multiple bases, hulls and heights, HOST transcends the spaces it invests.
OBJET DE CURIOSITÉ
Our wallpaper collection
Here is a part of our wallpaper collection, more are available on our website.
GALEA
DINING TABLE SILVIA
Base in beige lacquered metal, ceramic tray and extensions Havana color glued on 3mm tempered glass