Japandi style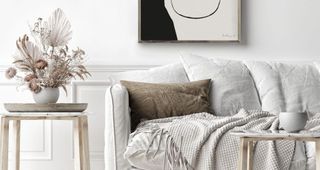 Focused on design and the essence of things, this decor trend is proving to be highly popular. Muted tones, tasteful furniture and objects, elegant lighting, natural materials and a simple, pure environment…These are the keys to this style.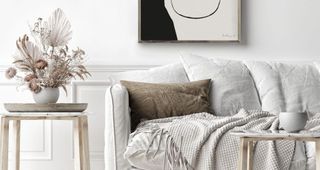 NAZAR RUGS
ALBI - mineral beige
Beige Long Pile Artificial Wool Rug (Polypropylene) Polypropylene is a synthetic fiber that is not harmful to the environment. Soft and fluffy, it can be combined in many ways with different interior styles. Regular features, natural tones and softness to the touch to give a sophisticated look to its interior. Easy-care carpet that does not lose hair and does not catch dust. Certified according to STANDARD 100 by OEKO-TEX. Price per m2
BLOMUS
Salad Bowl - SABLO
rough – like water flowing over sand. The SABLO ceramic salad bowl is made of a mixture of coloured clay, quartz, minerals and oxides. The lightly speckled look perfectly complements the colour combination of grey and beige tones, and is texturally reinforced by the partial glaze. Due to variations in colour, each piece is one-of-a-kind with a unique hand-crafted appearance. Dishwasher and microwave-safe.
N.LOBJOY
Pendant lamp Jupette
Light and delicate, the Jupette pendant lamp made of eco-friendly certified paper is made entirely by hand, each one is unique. For its protection and durability, the luminaire receives 3 layers of varnish
TAYALIVING - ORGANIC TOUCH 100% PLASTIC
TAYALIVING
Tayaliving started as a vision to create a simple, timeless, and functional lifestyle brand that aligns with modern-day life. Our unique material is woven from threads of durable Robust Olefin Braid (PP) to create low-maintenance products that are built to last. All of which is 100% recyclable. The Taya Living aesthetic is both accessible, Ranging from multi-functional homeware products to your everyday tote bag, each item is made by hand, with love, from our team of skilled artisans throughout Thailand.
HEYMAT
Doormat Heymat+ Sand
Sand was inspired by Japanese Zen gardens. It is available in a calm beige color that perfectly matches the name of the carpet. The three-dimensional pattern is both tactile and meditative, creating a calm atmosphere near your door. Sand is part of the Heymat+ collection, which also includes Stein, Sjø and Strå. The rugs are designed by Kristine Five Melvær.
ELDVARM
Emma Lantern - Blanc
This elegant lantern was designed for candles, but there are many uses for it, including as a plant pot or simply as a small bowl once you remove the glass. The Blanc version combines a cream white powder-coated steel base with "Naturel" leather, hand blown glass and details in solid brass.
XERALIVING
GREY ABSTRACT POSTER
Soft art poster with a modern touch A beautiful poster in two sizes. The poster size fits standard size frames, allowing you to easily create a stunning paint collage.
BASSOLS
Flax duvet set in washed linen
Washed linen bedding set with a special finish that gives it an extreme softness, improving with time. Designs and colours that create a relaxed and stylish atmosphere in the room. Breathable, antimicrobial and hypoallergenic bed linens. Made of 100% natural and sustainably grown premium European linen. 100% MASTERS OF LINEN© Certified Linen
LINDFORM
Relief Astrid vase
Ceramic vases in Cream White and Beige matt glaze Comes in a brown gift box with black print
METTEHANDBERG ART PRINTS
Elegant and Eco-Friendly Wall Hangings in Cotton/Linen
Create a balanced and natural look in your home with an elegant wall hanging. The wall hanging is printed with high a quality water-based pigment on a heavy 50 % linen 50 % cotton fabric. The colour is off white and the print reflects the hand painted lines in a very unique way. The wall hangings are delivered with wooden lists already mounted and a string loop for hanging. Designed and made in Denmark. Style pictures by Katie from Hello_Haus .
SOPHA DIFFUSION JAPANLIFESTYLE
Bowl
Bowl
METROCS
HOKORE (PENDANT)
Comme Sen, c'est une œuvre qui utilise la technique du travail de Suruga Bamboo Sensui, et en même temps que Sen a été annoncé, le concept de « Hokore, fierté » a été achevé. Je veux être très fière du pouvoir des fleurs, qui est également le motif d'autres œuvres, et du pouvoir des bourgeons d'atteindre leur pleine floraison. Il est produit depuis de nombreuses années et connaît l'artisanat traditionnel qui ne peut être fabriqué qu'avec des techniques sophistiquées, et je crois que le design est quelque chose dont le monde peut être fier.
RAVEN - JAPANESE TILES
Accordi M - Porcelain Tiles
Accordi M is an unglazed porcelain tile from master ceramicists, INAX of Japan. Being unglazed it has a matt finish and comes in a great colour range of 28. We understand comparing these on the website is tough so feel free to see them together here. Use the codes to identify the correct colour. The price is per carton of 18 sheets covering 1.56m2
SOPHA DIFFUSION JAPANLIFESTYLE
Japanese furnitures
Japanese furnitures
WOOD MOOD
ROCKY M | Interior candle made of wood, beeswax and natural oils
ROCKY candles are just made for a real cozy atmosphere. Solid groovy bark looks rustic and is felt as a piece of pure nature. Scent: coniferous forest. Wood kind: maple. Optionally reusable just like other WOOD MOOD candles. Size M is 24 hours of burn time at a charge.
SHINTO TOWEL
YUKINE/ bath mat
The extraordinary absorption capacity is the result of our ultimate Atozarashi refining method. For the YUKINE bath mat, we put twice as much effort into our traditional Atozarashi post-weave refining process, removing starch, natural oils and impurities to maximize the natural absorption of cotton to its highest potential. The white yarns for the warp and the yarns of different colors for the weft make its design reminiscent of natural scenes emerging from fallen snow and pure white snow. Material: 100% organic cotton
BYWIRTH / EKTA LIVING
Scala Bench Small
Scala Bench Small is a bench in a simple yet elegant design with all of the quality that comes with the tradition of Scandinavian craftsmanship. Made in FSC-certified oak with a light steel frame that provides strength and can function as either footrest or shoe rack. One or two stool cushions can be fixed on the bench in quality leather from Sorensen Leather or fine wool fabrics from Kvadrat in a range of colors. The Scala series of stools, barstools, benches, and tables are lightweight, flexible-use furniture fashioned from FSC-certified in the colors Nature, Oiled, Smoked and Black.