Full of positive colors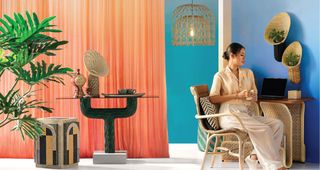 The Philippines' finest home and lifestyle brands offer a distinct collaboration of colors in a striking new collection developed with some of the country's leading designers. Enjoy a visual play of muted hues and bold shades with these arresting pieces from Design Commune.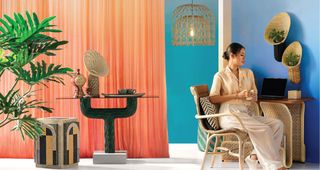 DESIGN COMMUNE
JUNK NOT Leonora Chair
Handmade with bamboo wood with seat handwoven from recycled plastic. Designer 設計師 : Wilhelmina GarciaCraftsman 工藝家: Mei-Ju Lin 林美如 | Bamboola Taiwan 大禾竹藝工坊 | Wilhelmina Garcia (Junk Not) Dimension: 40 x 40 x 90cm
DESIGN COMMUNE
CALFURN Cairo Dining Arm Chair
Ce fauteuil de salle à manger CALFURN Cairo possède des pieds en rotin naturel avec bras et corps en métal enduit de poudre, tissés à la main avec des matériaux naturels lampakanay (herbe puissante), par des artisans de Pampanga, aux Philippines. Dimension : 63,5 po cm x 62,5 po cm x 88,3 po cm
DESIGN COMMUNE
CEBU HOMECRAFT Driftwood Planter and Plant Sculpture
Handmade sculptural planter made from driftwood by artisans from Cebu, Philippines. Dimensions: 43X29.5X92cm 56X27.5X55cm Designer 設計師A.M IDEAS Wan-Shan Lin, Helen Chen凌晨工作室 林宛珊、陳韻如Craftsman 工藝家Driftwood 漂流木 43X29.5X92cm 56X27.5X55cm Cebu Home Craft
DESIGN COMMUNE
SHELMED Rattan & Abaca Partition
Handwoven from Abaca (manila hemp) fiber with Rattan frame partition | divider. Floor Standing Type. Available in the following dimensions: 170X70X35cm | 155X60X35cm| 145X80X40cm. This item is a product of collaboration under the Taiwan-Philippines Craft Cooperation Project, a design exchange program where Philippine designers were matched with manufacturers from Taiwan and vice versa. Learn more at : https://bit.ly/Shelmed
DESIGN COMMUNE
MURILLO Rattan Stool
Handmade from bent rattan by craftsmen from Cebu, Philippines. See more at : https://bit.ly/3lEcgqk
DESIGN COMMUNE
OUTDOOR+SOLUTIONS Rasty Stool
Good for indoor and outdoor single-seater. Accent piece and can be custom made from Synthetic fiber and Aluminum. Dimension: 50.8 in cm x 55.9 in cm x 61 in cm
DESIGN COMMUNE
JM Handicrafts Handwoven Lamp
Crafted by a community of artisans from the Philippines, this hanging light is made from handwoven, locally abundant, and sustainably harvested seagrass locally known as "bangkuan" and "bacbac", with yarn pompon and tassel for accent.
DESIGN COMMUNE
PUMICE Urn and Vase Collection
Crafted from natural pumice stone with wood accent.
DESIGN COMMUNE
WINNERS FURNITURE Chair
A stunning and honest design of an armchair with metal frame and upholstered seat. Made in the Philippines. See more from Winners Furniture at https://bit.ly/WinnersFurniture .
DESIGN COMMUNE
NATIVE CRAFTS & ARTS Bamboo Candle Holder
Meticulously handcrafted and eco-friendly bamboo candle holders are surely great additions to any interior accents. Dimension: 16 in cm x 16 in cm x 39 in cm
DESIGN COMMUNE
SCHEMA Plump Stool
Stools or side-tables with pattern inspired by layered strings or fabrics. Fun, Streamlined & Utilitarian Designed by Celia Jiao for Schema. Crafted from Metal Wire, Steel Top, from the Philippines. Dimension: 49 in cm x 47 in cm
DESIGN COMMUNE
INDUSTRIA EDITION Loopy Lounge Chair
The brand takes its creative cues from the timeless aesthetics of the Mid-Century Modern era, while also drawing inspiration from nature. Referencing the robust form of molave tree as well as the whimsical shape of a beehive in their designs, INDUSTRIA EDITION merges organic structure with the raw quality of steel and translates it into statement pieces.Crafted from genuine leather seat with metal frame, from the Philippines.
DESIGN COMMUNE
OMO FURNITURE Flamenco 3 Seater Sofa
Fully upholstered 3-seater sofa with handwoven rattan accent.
DESIGN COMMUNE
VULCAN RESOURCES/MCCA Double-Bubble Pendant light
Powder coated, two-tone finish pendant light. Comes in three (3) sizes: Sml Dim: 30 cm dia x 40 cm ht | Med Dim: 40 cm dia x 54.3 cm ht| Lrg Dim: 50 cm dia x 66.7 cm ht.