AUTHENTAGE LIGHTING
AUTHENTAGE offers you timeless handcrafted lighting with the emphasis on atmosphere and combined with the latest lighting technology. The durable material withstands extreme weather conditions.
AUTHENTAGE produces designs with an authentic character. Our products are hand-assembled with great skill and passion in our workshop in Belgium. We exclusively use high-grade raw materials, primarily brass. The material is resistant to the most extreme weather conditions and is corrosion-free, making it ideal for applications both indoors and out. Our original products can also be adapted to your needs and wishes and are standard available in bronze, brushed nickel, chrome and polished brass.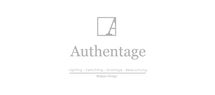 Add
News
08/01/2021 AUTHENTAGE INVITES YOU TO AN EXCLUSIVE WEBINAR

In order to give you an alternative to a visit at our booth at Maison et Objet normally in January we're organising an exclusive webinar. During this webinar we'll show you the highlights of our collections and we'll provide you a tool with which it will be very easy to use the right spotlight for the specific painting, picture,...

02/09/2020 BELGIAN LIGHTING COMPANY AUTHENTAGE LAUNCHES 'CREATE YOUR OWN BELLEFEU'

We are a manufacturer of authentic lighting and our main focus is on ambiance creation. We strive for flexible solutions for our customers. Not only do we offer them customized solutions, but we also give them the opportunity to work with our Bellefeu LED technology* and create their own unique Bellefeu application. Indoors and outdoors!