LISSOY
LISSOY, a French brand imagined by Tatiana and Jacky, dresses your home with linen textiles. The founders cultivate their audacity for colors and their taste for masculine weavings inspired by clothing.
Chic, contemporary, timeless. LISSOY privileges flax grown in the north of France. The colors and weaving are destined for the bed, the decoration, the table and the bathroom. The collection is designed to offer multiple combinations. Its finish is discreet. LISSOY is distinguished by its taste for masculine weaves inspired by clothing.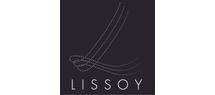 Add
News
19/12/2022 A year 2022 of creation around materials

Lissoy is completing a new year of activity which has given rise to some interesting creations. Far from the imperatives of fashion trends, our research is inspired by the appearance of fabrics thanks to a reflection on threads, their mixture and their weaving. This is done close to the weavers and gives us immense pleasure in the exchange and the collective result.

25/08/2022 Towels fine honeycomb weave

For this collection we worked on a fine honeycomb weave, mixing the dyed threads with the colors of the bed linen collection. We retained a thick contexture inviting contact and giving perfect absorption, especially thanks to the presence of linen. This casual collection with fringes is available in several sizes and color mixes.

05/08/2022 Photo session for the novelties in an Italian castle

New photo session with Alberto Bravini, around the new Lissoy products, the decorative fabrics made from the frescoes and the new honeycomb sponges. An incredible moment at dawn in a soothing and magnificent environment.