LISSOY
LISSOY, a French brand imagined by Tatiana and Jacky, dresses your home with linen textiles. The founders cultivate their audacity for colors and their taste for masculine weavings inspired by clothing.
Chic, contemporary, timeless. LISSOY privileges flax grown in the north of France. The colors and weaving are destined for the bed, the decoration, the table and the bathroom. The collection is designed to offer multiple combinations. Its finish is discreet. LISSOY is distinguished by its taste for masculine weaves inspired by clothing.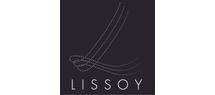 Add
News
10/09/2021 PRESS PRESENTATION AT THE BASTILLE DESIGN CENTER ON SEPTEMBER 14, 2021

As part of the Bastille Design Center, Bureau 110 is organizing a Press presentation in which the new Lissoy collections will be displayed.

29/05/2021 PALAZZO Italian for photo shoot of the new 2021 collection

A week in southern Italy, near Lecce in the wonderful setting of old Italian palaces renovated with respect. Inspiring and natural exteriors, majestic interior pieces that have lent themselves to the staging of colors and materials. A simple and chic place as we love them, which is a continuation of history and retains a magical atmosphere.

07/04/2021 Lissoy's new collections soft and soothing

Tatiana's inspiration for these new colours is soft and soothed. Unprecedented tones that blend accurately for natural and delicate atmospheres. The weaving of very fine chambray fabrics, taking up the main themes of the collections, complements in riches a collection that has made the craze of our distributors. to discover!