ABK GROUP S.P.A. INDUSTRIE CERAMICHE
For more than 25 years, ABK has been creating surfaces that evoke authentic emotions. With its focus on design and interior decoration coupled with the added value of Italian-made products, it caters for the needs of both professionals & the public.
In particular, this partnership with professionals has led to the development of "Wide&Style", an innovative high-resolution digital decoration project consisting of large ceramic slabs up to 160 x 320 cm in size. These exclusive ceramic wallpapers use geometric and floral decorations inspired by the world of luxury.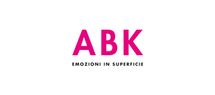 Add
News
28/02/2022 ABK presents Poetry Wood design by Paola Navone - Studio Otto