ENGEL.
Attending MAISON&OBJET
06-10 September 2019
SMART GIFT Hall 1 — Stands F75
Celebrate life.
ENGEL. is a company filled with laughter. Often it's full-blown roaring laughter, sometimes a gentle smile, and occasionally we have to wipe away a tear (of joy). ENGEL. is also a company that holds established traditions in high esteem and creates new ones. Since it was founded in 2005, company owner Sabien Engelenburg and her team have been developing beautiful products to decorate life with; it is with good reason that ENGEL. goes hand in hand with the words 'Celebrate Life'.It all began with coloured fabric flags after that came pretty paper decorations, bags, and then bamboo tableware.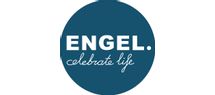 Add to selection