ODILE MOULIN SCULPTURES
ODILE MOULIN creates poetic and magical sculptures by mixing ceramic and mesh. Her creations are small or life size. Her favorite themes are movement and flight. Each original scenography tells a story.
ODILE MOULIN SCULPTURES changes wire mesh into marvelous and poetic sculptures. In the enchanted forest of ODILE MOULIN, semi-transparent wire mesh trees are adorned with porcelain leaves. Doves take flight. This timeless, magical and dreamlike scenography of sculptural ballet can take place indoors or outdoors. It also gives an original touch to any exceptional event.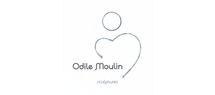 Add
Member of Ateliers d'Art de France