RABITTI 1969 BY GIOBAGNARA
The saddle leather specialist RABITTI1969, acquired by GIOBAGNARA in 2015, is constantly expanding its offer by revisiting the house archives and creating new collections, following the path begun in 1969 and adapting the classics to new necessities.
In 2015, GIOBAGNARA acquired the famous Italian saddle leather specialist RABITTI: the first brand to offer a wide array of home accessories in this type of leather. He quickly won international recognition. With RABITTI1969, GIOBAGNARA is expanding the offering by revisiting the brand's archives and creating new collections. These objects, made entirely out of leather, capture a readily identifiable aesthetic based on a modern elegance where lines and forms leave out extraneous details. This minimalist design focuses squarely on each element to offer pieces imbued with a timeless quality.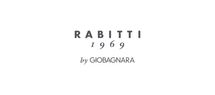 Add to selection