MIFUKO
Mifuko is a social enterprise that fuses Nordic design with African handicraft. Our products bring joy and utility to customers while empowering women in rural areas of Kenya. This is the essence of our social impact.
Mifuko's 100% handmade product collections target a unique position in the home décor and fashion market: The value of social enterprise, design and quality. We employ over 700 women. Just as every one of our artisans is unique so are the products he or she makes. Each of our products is signed by the artisan who made it. People and planet first in everything we do. We are a proud certified member of World Trade Fair Organisation (WTFO). Mifuko is a Finnish company established in 2009 and with resellers in over 30 countries.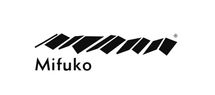 Add
News
04/09/2020 New autumn 2020 COLLECTION from Mifuko

Since 2009 Mifuko has combined beautiful Nordic design with quality Kenyan craftsmanship. In 2020 Maison&Objet digital fair Mifuko is launching a range of new products: 1. Fair trade Paper baskets with lid 2. Handmade bowls 3. New colors in XL and XXl baskets Contact to us shop@mifuko.fi to get our latest catalog! We have also great web shop to our resellers.