LA GALLERIA COLLECTION
Our personal creations are the guarantee for a unique collection of stuffed toys, pajama bags, easter decoration, items made of fabric, metal and more.
The Gallery, wholesale founded in 1995, has since grown into an established name in the decoration world. Our collections have been bringing cosiness and fun for several decades romance in many living rooms. Our own creations guarantee a unique range in teddyberen and hugs, as well christmas-in Easter decoration and so much more. if family business we combine the expertise and know-how of Els Martens with the dynamism and creativity of daughter Michelle Braeckman.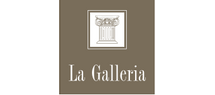 Add