VOLUSPA
Present at Maison&Objet Fair
From 18-22 January 2024
VOLUSPA manufactures fine home fragrances, candles, room sprays & oil diffusers, packaged in unique designs crafted by our in- house artisans; using the finest ingredients ; for a truly luxury sensory experience.
Voluspa is a reflection of the art, beauty and culture that inspire its founders. Hand poured in California, and curated to perfection, each unique vessel is designed by our in-house artisans and packaged to perfection. Our signature fragrances are meticulously handcrafted, using the finest ingredients sourced from around the globe, and blended into our clean burning luxurious coconut wax. Fill your home with a luxury fragrance experience that enlightens, entertains and inspires.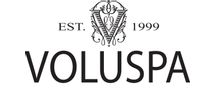 Add
News
29/12/2020 Relaunch of VOLUSPA'S Maison Collection!

The Maison Collection means home in every sense of the word. Established and created in 1999 by true artisans, it has since built a cult-like following. Our entire Maison collection, both Noir + Blanc are being updated! From the glass, to the formats to even some of the fragrances, the Maison collection is getting a full refresh!