RED EDITION
RED EDITION
Thanks to a clever mix of materials Red Edition offers elegant furniture in the image of a casual lifestyle. Red Edition plays with the craftsmanship of Vietnam and the know-how of Italy to think of furniture witnesses of a French art de vivre.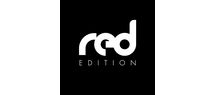 Add
Collections
News
26/03/2021 PREMIER ACTE COLLECTION

PREMIER ACTE was born from the collaboration between Atelier Tristan Auer/// Wilson Associates, Red Edition and Lelièvre Paris. This capsule collection, inspired by the world of Parisian theatres, incorporates the requirements of the high-end hotel industry whose codes are perfectly mastered by the three houses.