ML FABRICS
ML FABRICS Home Couture creates a luxury collection of cushions, bed linen, rugs, stonewashed linens & unique antique Kuba's.
ML FABRICS stands for natural, delicate & soft materials in subtle colors.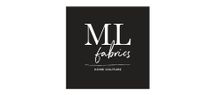 Add
News
12/12/2019 new collection UNIQUE PIECES Kuba cloth cushions

UNIQUE PIECES of ART Beautiful Kuba cushions made from old raffia Kuba Cloth from Africa. We try to find new patterns and dessins every time we're in Africa. Back in the Netherlands we make a combination with one of our stonewashed linen fabrics for that extra luxery look.