NUUNA
nuuna by brandbook premium notebooks Notebooks by nuuna are small design objects, collector's items pieces and the end of boring notebooks.
Notebooks store our ideas – and that's what they should look like. That's why we produce notebooks that are not only fit for your ideas, but also contain a whole bunch of ideas themselves. Thread-stitched and with a perfect flatness that even lets you sketch across the pages. Made of 120g premium paper, printed with a dot grid that is equally suitable for writing and drawing. Included in smooth bonded leather, jeans label material or artificial leather. Designed with different artworks in screen printing or with metallic and hologram effects - everything 100% made in Germany.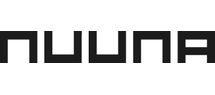 Add
News
27/04/2021 The new books of our collaboration with Myriam Beltz is here!

For years, Myriam Beltz would write her thoughts down in a notebook. At a certain point, only curved lines were left on the page. Ever since that day, the artist has been composing her "Daily Drawings". For the covers of her nuuna art edition, the artist has chosen the themes of "Lines", "Dots" and "Friends" – which is, according to Beltz, everything she needs to be happy.

02/09/2020 There are news from our nuuna creative laboratory

For the COMPOSITION notebooks we unpacked a lot of paint and swung the brush. The COMPOSITION series using the classic four-colour motif, the cover artwork of each reveals blended overlays of painting and digital picture editing. Characterising the creative tension caused by differing design elements, these free colour compositions are impressed on rough Jeans Label Material.

01/09/2020 Cradle to Cradle certificate for our favorite premium paper

For years we have been using the premium paper Munken for our nuuna collection. Since the summer of 2020, the premium paper has also been freshly awarded the Cradle to Cradle certificate. Cradle to Cradle stands for a self-contained circular economy, no resources are wasted: a radical alternative to the throwaway society and further confirmation that we are doing everything right with this paper.