BANDIT MANCHOT
A unique collection of stunning cards and objects in bright colors high-quality leather with a sensual, soft and noble feel, with metalized hot-stamp.
How such noble material as high-quality leather could be saved from dumping? Or give a second life to leather rolls left over after the manufacturing of luxury products? The BANDIT MANCHOT team had set their hearts on the project for years. They eventually came upon the idea of marketing a collection of leather postcards that would be engraved, tattooed "in the flesh", forever, and also leather creative goods for accessories, decoration, and stationery departments.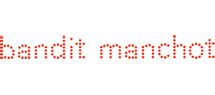 Add
News
25/03/2021 A FRANCO MALAGASY COLLAB 2/2

These baskets, named "soubiques" are traditional Malagasy ones used by merchants to transport fruits, vegetables, and other stuff. They are made in the bush by peasants. It is their very raw finish that seduced us, as well as their simplicity and solidity. We garnished them in our workshop just as we know to do it, with fancy leathers and upcycled of course!

16/03/2021 A FRANCO MALAGASY COLLAB 1/2

We have been looking for molded leather products for years. Impossible to find them in France, nor in Europe. It is in Madagascar that we've finally found this know-how. These glove boxes are made on wooden molds that are especially shaped for us. The leather is thoroughly wet, tightly stretched over its form, then dried, unmolded and finally over-cut.

26/01/2021 The day after traditional leather goods

Reuse dormant leather stocks to make postcards. A great idea, with a very low price, but a niche product. The range quickly had to be extended: wallets for women and men always enhanced with a red elastic band, fair price card holders or purses made with upcycled leather. The slot machine set the winning combination!