NOVOCUADRO ART COMPANY
Quality innovative design in original artworks for retail and contract.
NOVOCUADRO ART COMPANY has a huge collection of original paintings representing a wide range of artists, most of them from Spain, which have been distinguished for their talent. Among the company objectives are to bring the works of great artists closer to its clients and allowing customers to create their personal space with a unique atmosphere and style, where good taste and respect for the original work of art can be appreciated.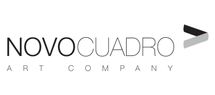 Add to selection