PULP SHOP
Smart products for your desk and workspace. Create your space
PULP brand specializes in premium stationary and design products for your closest working environment. PULP Emphasizes quality raw materials and simplicity in its urban design. PULP brand caters to connoisseurs of style, accuracy, organization, and comfort. It Enabling a personalized, comfortable work space based on varied smart products designed for the office, the desk and the bag. PULP is built on a proud family tradition, great respect for craftsmanship, and an ongoing collaboration with artists. Making art accessible through shared collections, keeping the brand relevant and fresh.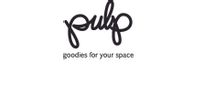 Add
News
29/07/2019 Innovative work space objects

An original and unique 3D paper cube that is used both for memo papers and as a decorative object for the desk. when you tear out the papers from one side, you reveal to the unique figure. Using its innovative technology, 3D objects are cut to paper-thin slices, creating multi-layered usable paper sculptures. This object is a combination of using a smart cutting machine and hand work.