WOO (WORLDS OF OPPORTUNITIES)
The brand that gives back.
WOO (Worlds of Opportunities) is a premium impact brand that offers a luxury lifestyle collection with the added allure of social and environmental responsibility. In the making of our exquisite home fragrances, delicate personal care products and fashion accessories, WOO strives to positively impact the lives of people in all steps of the supply chain, empowering those in need of an opportunity. Our products are sourced from around the world while engaging the communities that connect us.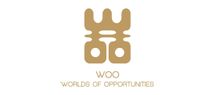 Add to selection