BERTHE AUX GRANDS PIEDS
BERTHE AUX GRANDS PIEDS is the skillful artist that everyone with cheerful feet is talking about! With a touch of wooly magic, they create a colorful line of artsy staggered socks for everyday use or that special occasion. BERTHE rocks your socks!
BERTHE AUX GRANDS PIEDS is manufactured by a French family heritage company created in 1924 and based in Burgundy, "Perrin" manufacturing. This collaboration is all about seeking for excellence, on both quality, production tracking, and product design. The collections are all made with selected quality fibers from only the top suppliers such as cotton lisle, American or Egyptian long fiber cotton, French combed wool, Chinese silk or Indian cashmere to name a few. The products are knitted with top of the line finition: reinforced at the toes and heels, hand finished and made to size.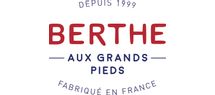 Add to selection