L'ART DU BAIN
Unique and decorative soaps, handmade in France, with passion.
L'Art du Bain was created in 2004, in Marrakech. The company's founders, Elsa and Youssef Maanaoui, both graphic art aficionados who love beautiful materials, draw their inspiration from their countless encounters and travel experiences. They remain ever faithful to their lives as children of two cultures, instinctively breaking free from established codes to create a contrasted and audacious world of soap products. In the hands of Elsa and Youssef, soap becomes a noble and precious material, a work of art.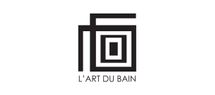 Add
News
17/03/2021 Pimp ta Kasbah - notre nouvelle collection déco

Laissez-vous transporter par les délicates notes fleuries et épicées de ces colliers, pour un voyage olfactif vers Marrakech, à l'endroit même où sont tournées nos perles de savons, une à une, à la main. Pimp ta kasbah, c'est la synergie des savoir-faire de nos ateliers nantais et marrakchi, qui donne naissance à cette nouvelle gamme décorative et olfactive, tendance et élégante.