LA PANTOUFLE A PEPERE
LA PANTOUFLE A PEPERE or chic and funky slippers and caps! Made in France accessories with trendy and retro prints. When comfort and style match.
LA PANTOUFLE A PEPERE is a French brand that stocks up and manufactures in France. The chic and quirky brand has dusted off the old charentaises (traditional French slippers) and declined a revisited range in noble fabrics, trendy prints and bright colours. Today, LA PANTOUFLE A PEPERE is distributed in around 100 shops, mainly concept stores in France and Belgium. It has widened its products with retro urban look headwear : high quality caps, gavroches or chapkas in sophisticated fabrics that gives panache and personality to every style.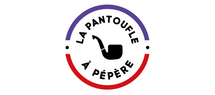 Add