LOUISE SMÆRUP DESIGN APS
LOUISE SMÆRUP designs and produces timeless and functional interior of high quality. The products fits into the modern home and to those who want to put their personal touch in the decor of their home. Cushions is our passion.
The products in the LOUISE SMÆRUP Collection is a delicate combination of a minimalistic graphic expression revolving around the color theme black and grey with a splash of selected colors. The DNA of the LOUISE SMÆRUP´s trademark is the stringent colorless style which comes across in all of her designs. "A room should accommodate people and interior may therefore not be to dominating" - this is a clear conviction of LOUISE SMÆRUP's and a sentence that is integrated in her design process. The leather strap has become a trademark that is featured on several products throughout the Collection.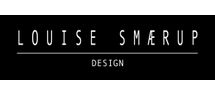 Add to selection