NATTIOT
Present at Maison&Objet Fair
From 08-12 September 2022
HOME ACCESSORIES
Hall 4 — Stands F96
7 years imagining and creating room decoration for the young kids, the young teenager, the young parents, the young at heart. A transversal and contemporary style.
Poetry and sense of humour, a quirky, light, creative and free style. Joy and daydream. Strong and resistant products, easy to clean, adapted to all kids and adults room. A craftsmanship magnifying natural materials in a very actual style. Technological processes for a perfect manufacturing of innovating products. A true commitment and a real suppliers' partnership in order to offer products done in both an environmental consciousness and human respect. Kids friendly products, 100% safe, tested to reach the highest quality and security standards such the Oekotex label.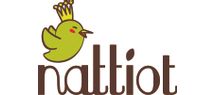 Add
Projects
News
20/05/2021 La Capsule ANIMALIUM

Une capsule composée de 4 tapis inspirés de l'univers animalier. Des motifs tendances et des formats originaux pour cette série graphique disponible depuis début janvier 2021. Toujours en quête de nouveauté, NATTIOT vous propose des actualisations de collection tout au long de la saison !

20/05/2021 Collaboration avec Marta Abad Blay

Cette illustratrice espagnole connue pour ses jolis portraits d'enfant est pleine de talent, de délicatesse et d'imagination.Son regard poétique et son trait reconnaissable ont conquis les murs de la planète déco.Une très belle rencontre pour une première collaboration dont nous sommes ravies!

20/05/2021 Collaboration avec MON PETIT ART

Cette très jolie marque conçoit depuis plus de dix ans des jeux, des activités et de la papeterie tissant des passerelles entre petits et grands. Un univers où art et poésie inspirent la conception des produits pour éveiller la sensibilité et l'imaginaire. Cette série de tapis imaginée par MPA autour des graphismes riches en détails est inspirée des lointains paysages des Andes !