BIG GREEN EGG FRANCE
BIG GREEN EGG, le barbecue d'exception. Saveurs inoubliables, grande facilité d'utilisation, garantie à vie. N°1 mondial depuis 1974.
BIG GREEN EGG is the world leader in Kamados since 1974. Unforgettable flavors, easy to use, lifetime warranty, here's the BIG GREEN EGG! An outdoor oven and barbecue that will allow you to realize an exceptional cuisine, to delight your guests. It can cook all types of food, from starter to dessert. The cooking is quite exceptional. It is for this reason that the BIG GREEN EGG is used by the greatest starred chefs in France, and all over the world.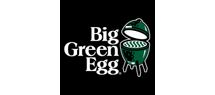 Add to selection