REBIRTH CERAMICS BY CERAMICHE ML
Mirrors, lamps, vases, slide tables, centerpieces. A collection and a concept based on the fusion between Italian classic knowhow and contemporary creativity where the results are unconventional but useful pieces of ornament.
REBIRTH reinterprets the historic tradition of Italian pottery in a contemporary manner. The original moulds are now combined in an innovative non-conventional way, the result is a series of quality articles capable of conferring style, refinement in detail and a new fresh touch to interiors. REBIRTH wants to give the traditional excellence of Italian workmanship a new expression in order to bring it back into modern homes. The craftsman's values of the past must continue to live and be reconsidered as fundamental in the history of the future.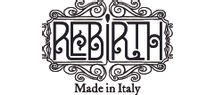 Add to selection