SYLVIE THIRIEZ
Present at Maison&Objet Fair
From 08-12 September 2022
HOME LINEN
Hall 5A — Stands E50 - F49
The design studio and the sewing and embroidering workshop have been created in 1983 in Halluin. The SYLVIE THIRIEZ team draws, cuts, sews, folds, embroiders and produces two collections and 100 000 items per year.
Our design team imagines some trendy collections. Beautiful fabrics lover, our team is inspired by the moments of life, in playing with high quality fabrics, pattern and colors. Thanks to its manufacturing and embroidery expertise passed from father to daughter, SYLVIE THIRIEZ offers to customize its client's products. And of course, we are delighted to share our "savoir faire" with our co-workers and clients crew!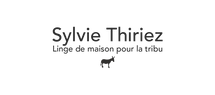 Add
News
01/08/2022 Nouvelle collection automne-hiver 2022 : Du bonheur dans la maison !

Cette saison Sylvie Thiriez explore à travers quatre nouvelles histoires les précieux moments qui insufflent du Bonheur dans la maison. L'histoire d'un été prolongé vous accompagne dans les derniers éclats de l'été avec une collection synonyme d'escapade et de simplicité rafraichissante, l'histoire d'un automne éclatant vous enveloppe dans la richesse de ses couleurs chatoyantes.

10/01/2022 Nouvelle collection été 2022 : Du bonheur dans la maison !

Sylvie Thiriez vous raconte les prémices du printemps, les premiers repas au grand air, les week-end à la mer, la chaleur du plein été et les moissons. La collection déroule le fil de la saison en s'inspirant des moments de vie qui rythment le printemps et l'été. Découvrez dès à présent notre nouvelle collection printemps-été 2022 : du bonheur dans la maison !

04/08/2021 Nouvelle collection Hiver 2021-2022 : Osez !

Cette saison la collection Sylvie Thiriez déploie sa créativité dans votre intérieur pour le rendre plusque jamais un espace de liberté. Alors Osez ! Osez exprimer pleinement votre personnalité. Osez raconter de belles histoires. Osez essayer de nouvelles idées. Osez exprimer vos rêves. Et enfin osez emmener votre tribu dans l'univers Sylvie Thiriez !