ANNCOX GLASS JEWELRY
Present at Maison&Objet Fair
From 08-12 September 2022
CRAFT
Hall 5A — Stands L24
Our collection is contemporary, sleek and full of color. We see color as a spark of "joie de vivre" that we like to share with our clientele. With every piece, we want to express the inner beauty of every woman!
As we are a great believer in sustainable fashion, we willfully choose to create a limited, timeless collection with recycled and/or vintage glass tubes. New designs and colors are added regularly. The collection is very explicit, the women who wear our jewelry are self-confident and have an eye for sleek design. Each piece of the collection is available in various colors and adaptable to the costumers wishes. We also create "one of a kind" pieces on demand. Every piece is handmade in Antwerp, Belgium.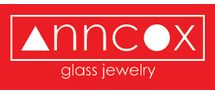 Add
News
30/07/2021 We launch our new "glow in the dark" collection to celebrate life and freedom.

AREN'T WE ALL PREPARING FOR A POST-PANDEMIC RAVE? Ann Cox's new collection lights up in the dark and creates an instant party-mood. The glow in the dark refers to this collective urge to regain our freedom. People need to connect and interact with each other. And there is nothing wrong with a little add-on to pimp your outfit.