MAXIME PERROLLE
MAXIME PERROLLE, art woodturner, create wooden sculptures by playing curves, lightness and point of balance.
MAXIME PERROLLE, wood turner, sets his pieces in a contemporary creative approach, respectful of the traditional values of the profession. Through his research, he fuels experimental work on the flexibility and lightness of wood, or even the application of colors and pigments.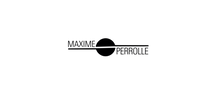 Add
Member of Ateliers d'Art de France
Projects
News
25/01/2021 Révélations 2021

Maxime Perrolle will be exhibiting at the Revelations 2021 show. The edition will be held at the grand palais éphémère sur le champ de mars in Paris from June 10 to 13, 2021.