HÜBSCH
At HÜBSCH, we strive to give our customers a unique experience in terms of service and high quality home interior design in our own unique style. Our collection is Scandinavian style influenced by Nordic coziness adapting to new trends/influences.
We want to offer you high quality interior design in our own unique style and pay attention to details. We are people-minded which is why you can expect to be the center of attention.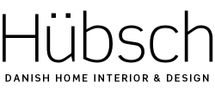 Add
Projects
News
21/01/2021 Press Kit

With a dream of building something unique and with a passion for good design, Hübsch was formed in 2010 by Flemming Hussak, Jannie Krüger and Daniel Henriksen. Since then, Hübsch has grown in size and is today regarded as one of Scandinavia's leading home interior brands.

21/01/2021 Hübsch spring/summer 2021 highlights

Hübsch presents a number of design highlights from the new SS21 collection linking the designs to current trends as well as a video presentation. Furthermore, Hübsch has launched their new image bank with several new search and filtering options. Please feel free to use the links in the document.